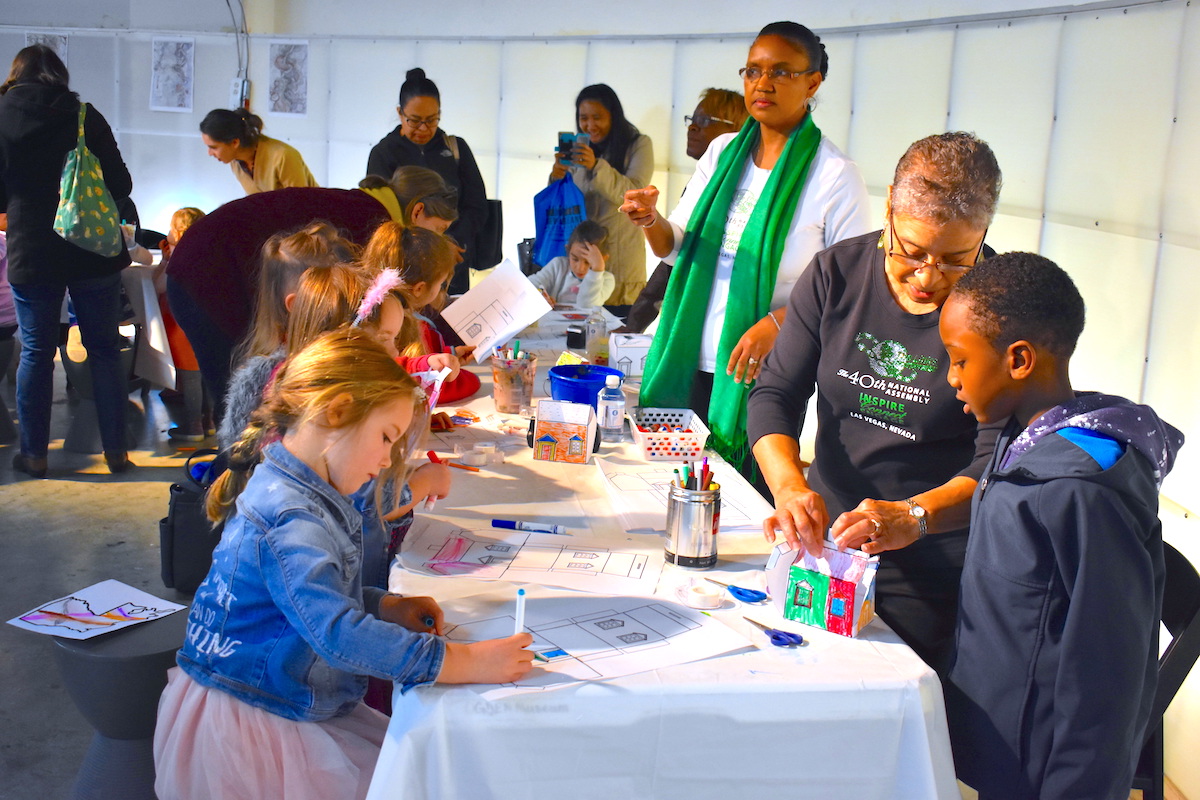 Martin Luther King Jr. Day: Art + Crafts + Music + Community
Free Admission All Day!
/// January 20, 2020 @ 10:00 am - 5:00 pm
In celebration of Dr. King's life and legacy, the Ogden Museum of Southern Art is hosting a FREE admission day on Martin Luther King Jr. Day, Monday, Jan. 20 from 10 a.m. to 5 p.m. Visitors of all ages are welcome to spend the day at the Museum exploring artists whose work investigates social justice, human rights and world peace through art activities, performances and dialogue.
ACTIVITIES

Paper Sculpture Monuments Inspired by John Isiah Walton
John Isiah Walton explores the status of Confederate monuments in New Orleans. Imagine a new monument for the city.
Civil Rights Leaders Portraits Inspired by Carl Joe Williams
Learn more about those who contributed to the civil rights movement. Color their portraits in the iconic geometric style of Carol Joe Williams.
Mixed Media Assemblage Inspired by Rontherin Ratliff
Rontherin Ratliff explores the lost of home with found objects. Depict your memories of home in this mixed media assemblage.
Dream Wall Inspired by Martin Luther King Jr.
Keep Martin Luther King Jr.'s message alive, contribute your dreams to the Dream Wall.
 Mini Protest Signs Inspired by the Civil Rights Movement
"Injustice anywhere is a threat to justice everywhere." – Martin Luther King Jr.
The civil rights movement accomplished its goals through protest. Make a mini protest sign about something that is important to you.
Gumbo Pot Collage Inspired by Leah Chase
Leah Chase is known for her Creole cuisine. Create a collage based on the ingredients and origins of gumbo.
Paper Weaving Inspired by the Freedom Riders
Weave a paper Freedom Bus to commemorate those who fought for civil rights.
 Pop-Up Cards of Kindness Inspired by Martin Luther King Jr.
"Life's most persistent and urgent question is, 'What are you doing for others?" – Martin Luther King Jr.
Martin Luther King Jr.'s legacy is to realize a kinder world. Make a pop-up card including your handprint and your one act of kindness for the new year.
PERFORMANCES
Artivism Dance Theatre
Dancing Grounds
New Orleans Youth Open Mic
Welcoming Project

Bard Early College Poetry Club

DJ Heelturn
FOOD FOR PURCHASE
Queen on Wheels
Tanjariné Kitchen
COMMUNITY PARTNERS
826 New Orleans 

After Class 

Bike Easy 

Community Works 

Electric Girls 

Evacuteer.org 

Liberty's Kitchen 

Louisiana Books 2 Prisoners 

Macaroni Kids 

National Alliance on Mental Illness 

New Orleans (LA) Chapter of The Links, Incorporated

New Orleans Parish Library 

STAR: Sexual Trauma Awareness & Response
Tulane School of Medicine's Brinton Family Health and Healing Center

Young Audiences
BOOK DONATIONS
Ogden Museum will be collecting books for Louisiana Books 2 Prisoners and offering two free admission passes to each donor. All books must be paperback and in good condition.  No hardcover books can be accepted. Specific requests from Louisiana Books 2 Prisoners: books by black authors (including autobiographies, history, urban fiction, sci-fi/fantasy and other fiction)
Bring the whole family to this free event at the O!
Related Events