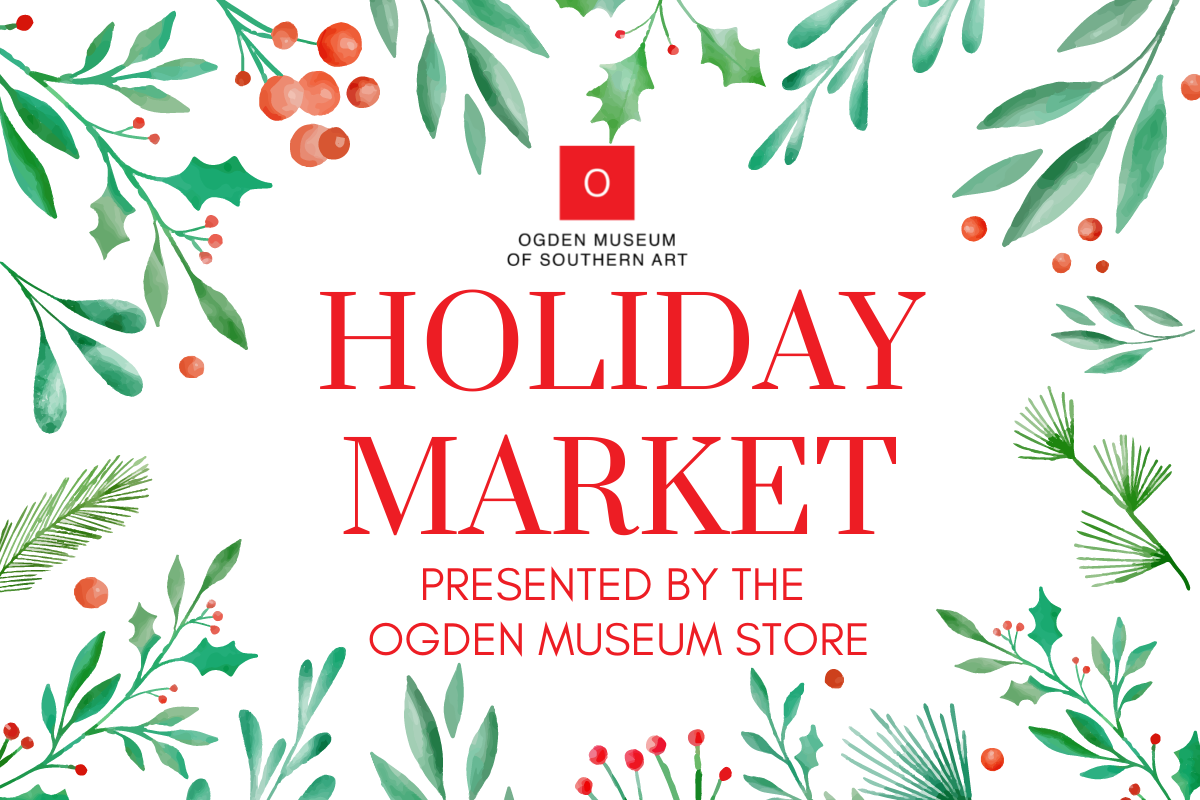 Holiday Market
Presented by The Ogden Museum Store
/// December 11, 2021 @ 12:00 pm - 5:00 pm
Swing by Ogden Museum Saturday, December 11 from 12 to 5 p.m. for a Holiday Market! Come peruse items by local vendors and artists. This is the perfect chance to get some holiday shopping done! Plus, from 3 to 5 p.m., enjoy live music by Dillon Warnek and a cash bar with wine, beer and non-alcoholic drinks.
To make this year's Holiday Market even more special, Ogden Museum Members will receive 25% off all in-store purchases.
Not an Ogden Museum Member? Join today! Ogden Museum members experience the art and culture of the American South through exclusive member privileges including unlimited free admission, private exhibition previews, discounted admission tickets for guests, discounts at the Ogden Museum Store and so much more!
Join Today
2021 Holiday Market Vendors
Oxalis Apothecary –100% Natural Skincare –  from Plant-To-Body. Hyper-clean, effective, approachable plant and mineral based products for everyday rituals.
Lil Bits Cloth – Handmade and naturally dyed clothing by Eliza Wapner.
Hess & Co. –  Accessories created with bold shapes, balanced by soft threads, inspired always, by shapes and colors.
Apartment 4 Lifestyle – Handmade, fairtrade and vintage goods.
Pyramids and Rainbows – Paintings and jewelry.
Madonna Lily –100% women-owned company based in New Orleans, Louisiana, that offers all natural body care and skin care handcrafted in small batches.
Simply Shenelle Candles – Fragrance and candles made in NOLA spreading love and light.
Swiet Stuff –  A wearable art studio focusing on #artWORK and empowARTment opportunities in communities around the world.
Functionally Yours – Driven by the impulses of creativity and enthusiastic about design, Functionally Yours blends the decorative arts with both traditional and technology-based fabrication practices to create heirloom quality home decor products.
Coralie Jewelry and River Styx Studio – Coralie Jewelry sells unique jewelry that repurposes found items including sheet music, postage stamps, cards & maps. River Styx Studio is a New Orleans art business that gives new life to driftwood from the Mississippi River.
The Big Book of King Cake – Written by Matt Haines, The Big Book of King Cake features beautiful photography of more than one hundred and fifty unique king cakes, as well as stories from the diverse and talented bakers who make them.
Inhabit Oyster Candles
Statement Goods – Operated by artists Toni and Alysia who share a passion for art, stationary and handmade goods. 
The Cafe Brulot by Sue Strachan – A book that details how cafe brulot became a New Orleans favorite and the ways in which the beverage is served.
Christy Lorio – Writer and photographer featured in Louisiana Contemporary 2021.
About Dillon Warneck
Dillon Warnek is a Nashville-based songwriter. In his earlier days, he played guitar and piano for artists like Courtney Marie Andrews, Brent Cowles, and whoever else had a van and a meager itinerary.
His suitcase filled with songs after years of playing clubs and stealing pens from waitresses, he left his sideman days behind him to sing his own. He got close with Margo Price and her band in Australia, and tricked them into backing him on his debut record, "Now That It's All Over."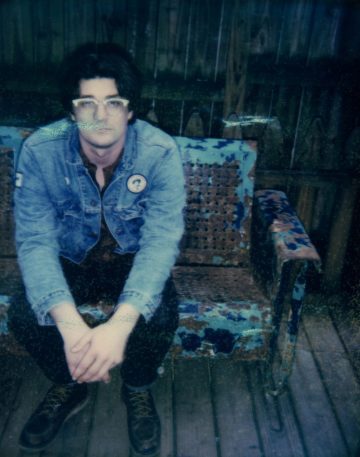 Concerning Dillon's songs, Margo said, "He has a sharp wit and a writing style that seems both familiar and foreign at the same time. He is a songwriter's songwriter, and some of his songs are too smart for the general population." The record got passed around and Joe Hudak wrote for Rolling Stone, "Dillon Warnek brings tales of everyday waitresses, repentant convicts, and unrepentant grifters to vibrant life. Con men are a favorite writing subject of the Nashville transplant. There are no scams here, however; just Warnek's rich, detailed character studies infused with elements of rock, country, and even Tex-Mex."
With these characters as his travel companions, Dillon plays his songs anywhere that will have him, and is wrapping up writing his next record.
He may need a bigger suitcase.