Español abajo
Create a drawing using shadow inspired by Ashleigh Coleman's photography.
Download Activity
Ashleigh Coleman was born in 1983 in Virginia. She is a self-taught photographer. Ashleigh currently lives on the land of her husband's family in rural Mississippi. Her photographs have exhibited across the United States, and are currently part of the traveling exhibitions for Looking for Appalachia and A Yellow Rose Project. She is a founding member of Due South Co.
Supplies
Paper, Object, Pencil, Black Color Drawing Utensil
Instructions  
Step 1: Look at Ashleigh Coleman's artwork, In the Dining Room. What do you notice about the artwork? What is the subject of the photograph? How does the shadow produced by the windowpane change the image?
Step 2: Decide what you want the subject of your drawing to be. In Coleman's photograph the snake is the subject.
Step 3: Use a pencil to draw your subject in the middle of your paper.
Step 4: Search your home for a place that has a strong source of sunlight. If there isn't sufficient sunlight use a lamp to create a strong source of light. If you are by a window, is the windowpane creating shadows over your drawing? If you're using a light source, search your home for an object to use to cast a shadow.
Step 5: Set up your drawing space with the shadow from the windowpane or object casted over your drawing. Using the shadow as a guide, trace the shadow over your drawing with a black color drawing utensil.
Step 6 (Optional): Use color pencils to color your drawing.
Vocabulary
Subject – the main focus or idea represented in an artwork
Photograph – an artwork made by light falling on a light-sensitive surface, either photographic film or another device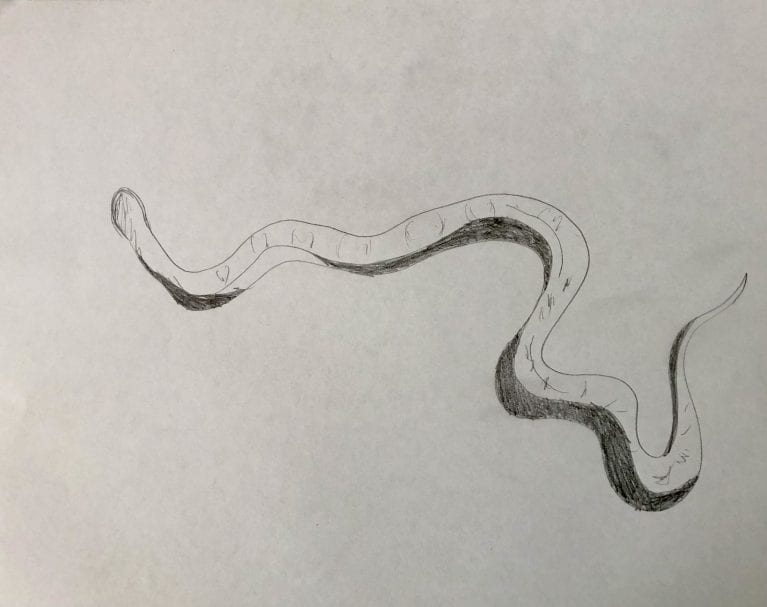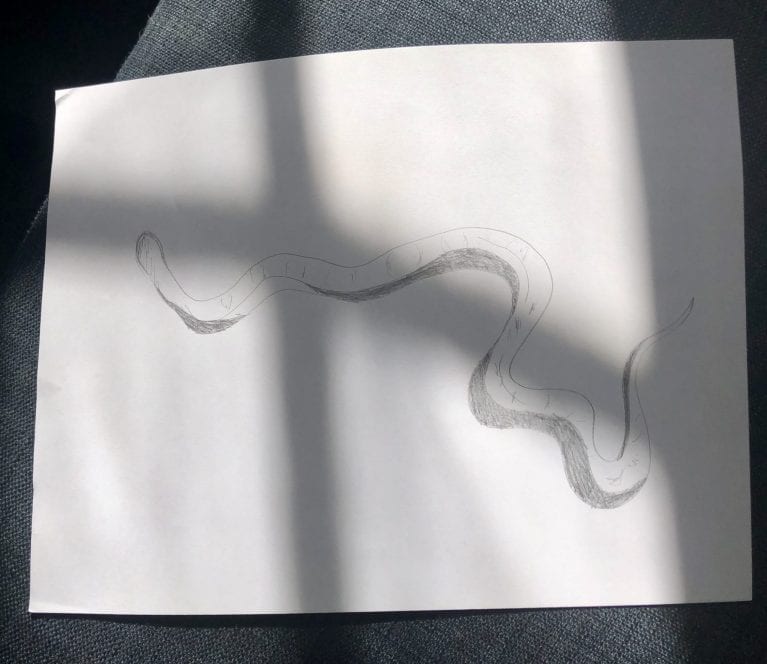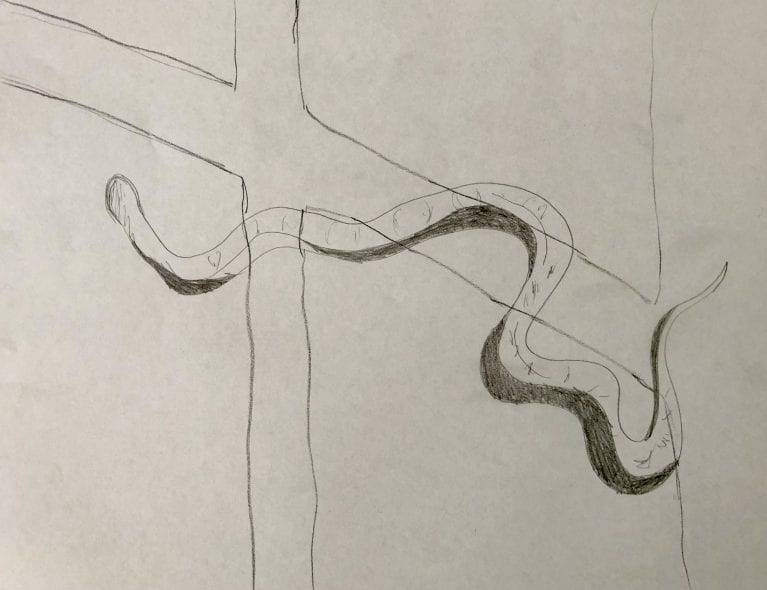 SEE ASHLEIGH COLEMAN'S IN THE DINING ROOM IN PHOTONOLA: CURRENTS 2020, HIGHLIGHTING THE WORK OF NEW ORLEANS PHOTO ALLIANCE MEMBERS AT THE OGDEN MUSEUM.
CHECK OUT THE O BLOG FOR MORE RESOURCES!
QUESTIONS? EMAIL EDUCATION@OGDENMUSEUM.ORG.
______________________________________
Actividades artísticas O-riginales: Dibujo con sombra Inspirado por Ashleigh Coleman
Crea un dibujo utilizando sombras, inspirándote en la fotografía de Ashleigh Coleman.
Ashleigh Coleman nació en 1983 en Virginia. Es fotógrafa autodidacta. Ashleigh vive actualmente en la tierra de la familia de su esposo en la zona rural de Misisipi. Sus fotografías se han exhibido en todo Estados Unidos y actualmente forman parte de las exposiciones itinerantes de Looking for Appalachia y A Yellow Rose Project . Es miembro fundadora de Due South Co.
Materiales
Papel, objeto, lápiz, untensilio de dibujo de color negro.
Instrucciones
Paso 1: Observa la obra de arte de Ashleigh Coleman, En el Comedor. ¿Qué notas sobre la obra de arte? ¿Cuál es el tema de la fotografía? ¿De qué manera la imagen de la sombra producida por el cristal cambia la imagen?
Paso 2: Decide cuál quieres que sea el tema de tu dibujo. En la fotografía de Coleman, el tema es la serpiente.
Paso 3: Utiliza un lápiz para dibujar tu tema en el medio del papel.
Paso 4: Busca en tu casa un lugar que tenga una fuente de luz solar fuerte. Si no hay suficiente luz solar, utiliza una lámpara para crear una fuente de luz fuerte. Si estás junto a una ventana, ¿el cristal de la ventana está creando sombras sobre tu dibujo? Si estás utilizando una fuente de luz, busca en tu casa un objeto que puedas utilizar para proyectar una sombra.
Paso 5: Prepara tu espacio de dibujo con la sombra del cristal de la ventana o el objeto que se proyecta sobre tu dibujo. Utilizando la sombra como guía, traza la sombra sobre tu dibujo con un utensilio de dibujo de color negro.
Paso 6 (Opcional): Utiliza lápices de colores para colorear tu dibujo.
Vocabulario
Tema: el enfoque o idea principal representada en una obra de arte.
Fotografía: una obra de arte hecha por la luz que cae sobre una superficie sensible a la luz, ya sea una película fotográfica u otro dispositivo.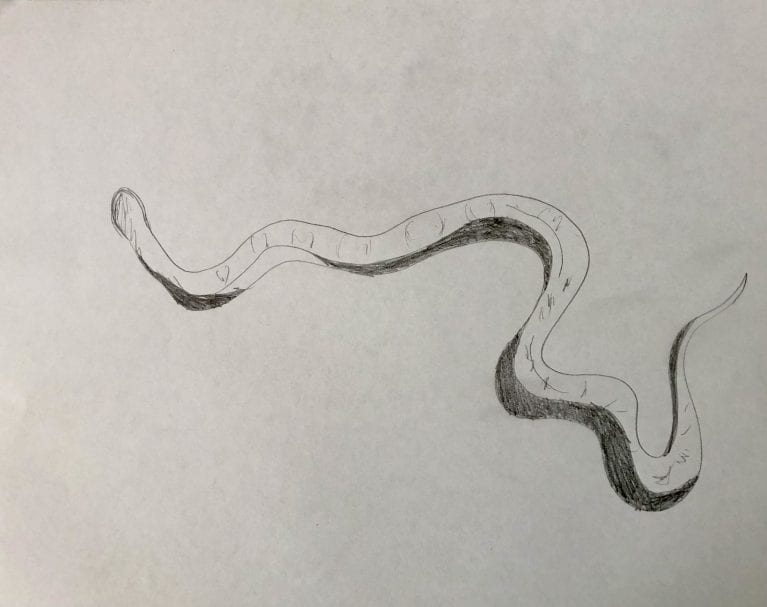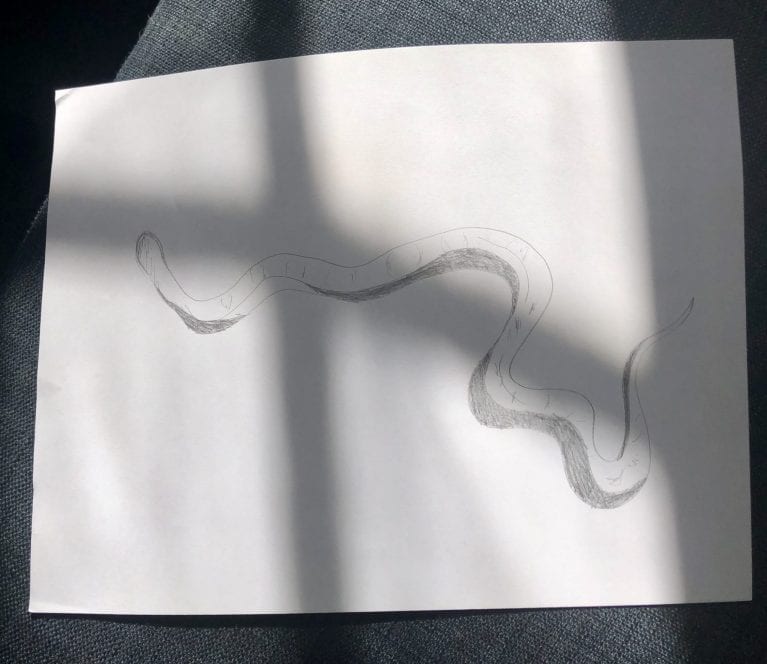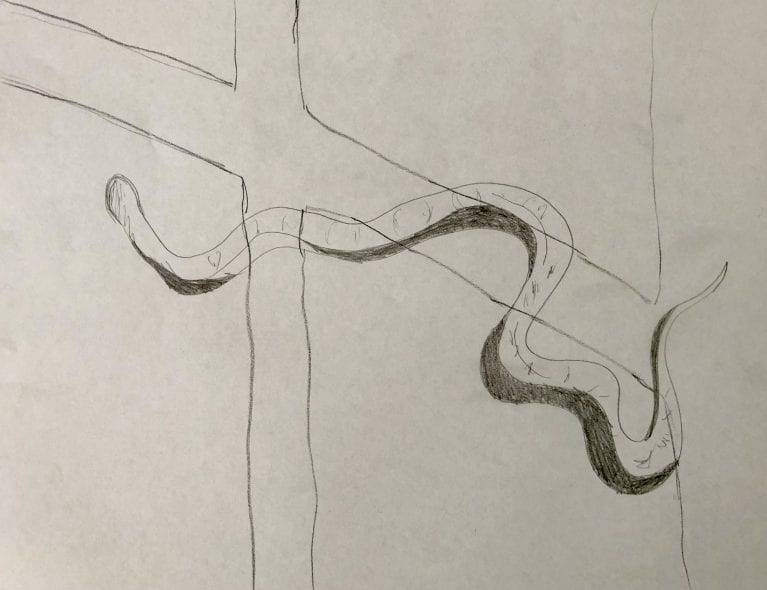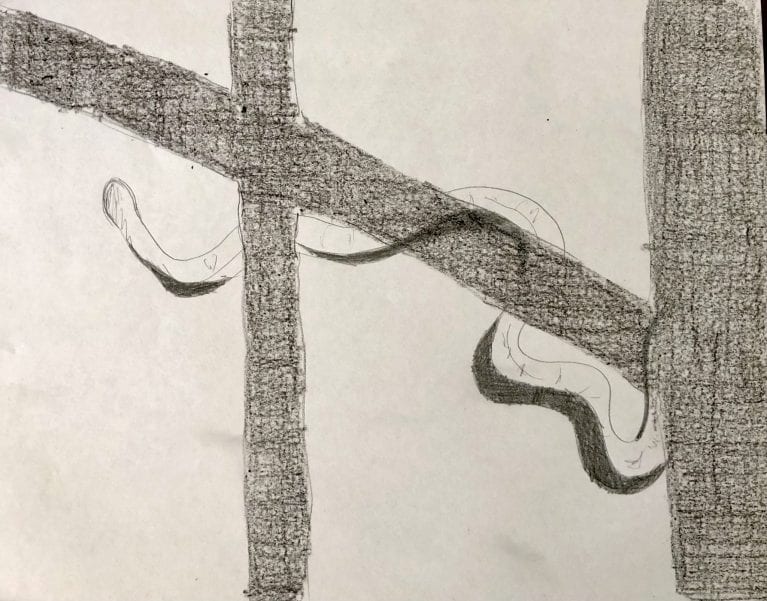 VÉ MÁS DE EN EL COMEDOR DE ASHLEIGH COLEMAN EN PHOTONOLA: ACTUALIDAD 2020, QUE DESTACA EL TRABAJO DE LOS MIEMBROS DE LA UNIÓN DE FOTÓGRAFOS DE NUEVA ORLEANS EN EL MUSEO OGDEN.
¡VISITA ​EL O BLOG PARA MÁS RECURSOS!
¿PREGUNTAS? ENVÍA UN EMAIL A EDUCATION@OGDENMUSEUM.ORG.
Translation by Agostina Coll