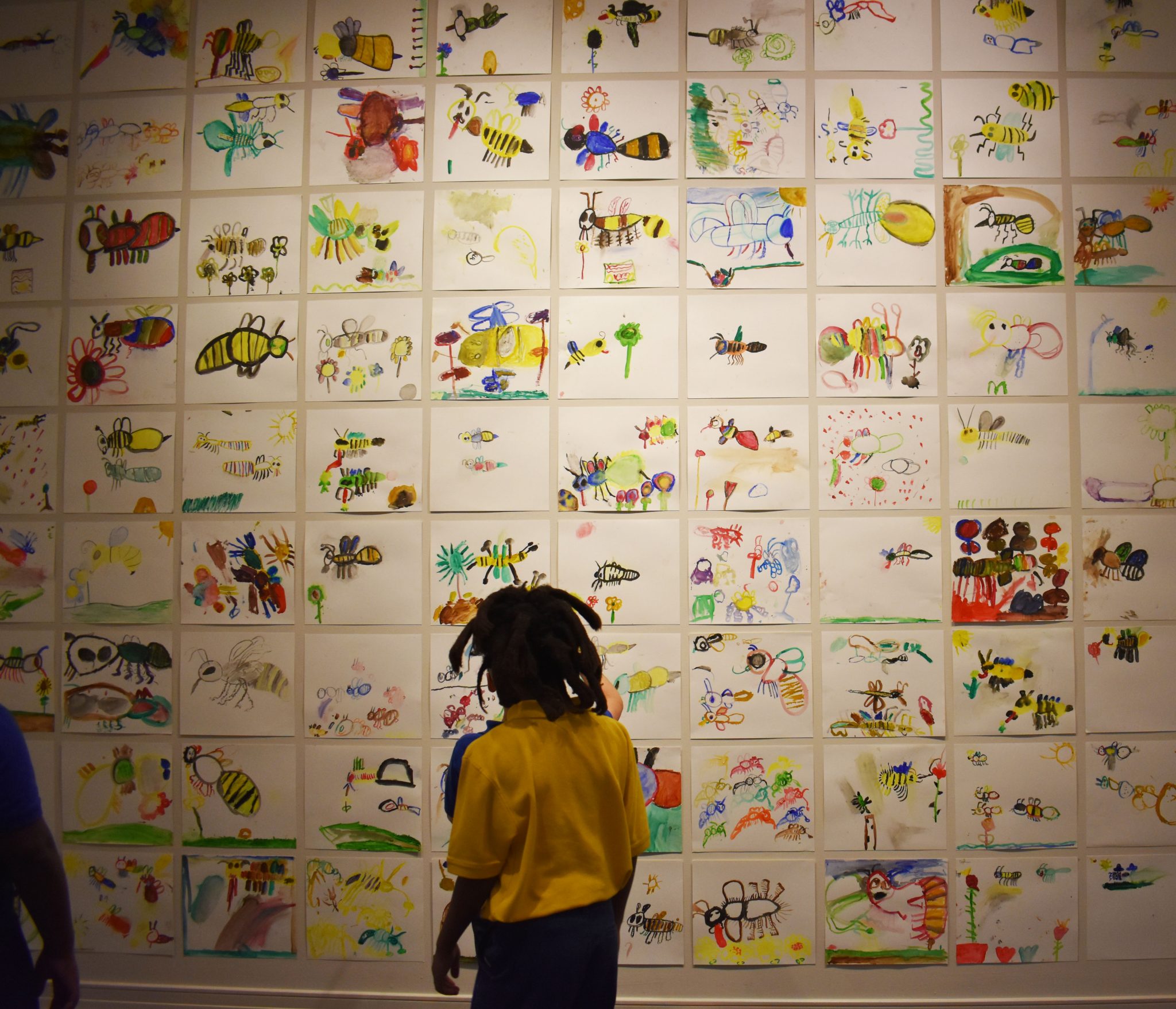 At the heart of the Ogden Museum of Southern Art's mission is educating the public in the visual arts and culture of the American South. Since its inception in 2001, the education department has organized artist-in-residence programs that pair artists with local schools. Working with elementary school children in the medium of the artist's choice, the artist spends three weeks with students exploring the influence of geography and sense of place. Upon completion of the residency, students visit the Museum to view their finished work of art.
Most recently, artist Shawn Hall worked with 200 of Bonella A. St. Ville Elementary School's second, third and fourth graders to create an installation inspired by the artist's research in North America's native bee species (of which there are over 4,000 species – and do NOT include honey bees!). Students learned about bees' vital role as pollinators of Southern agricultural plants and native flowers.
The students also explored the types of skills that artists and scientists share. Using the power of observation, students acted as researchers to render native bees in pencil. Concentrating on anatomy, students painted bees freehand in watercolor. In their final pieces, students honed their skills by painting their impressions of native bees within their natural habitats.
Shawn Hall is a New Orleans-based multidisciplinary artist working with painting, video and performance art. Hall views her work "from the premise that everything is an event in nature." Her projects are characterized by this intuitive and active participation in the biological world. Hall's work is held in the Museum's Permanent Collection.
We sat down with the Museum's Education Manager, Ellen Balkin, and Artist in Residence, Shawn Hall, to discuss their experiences working with the kids to put together the most recent Artist and Sense of Place exhibition titled, What are Native Bees, Y'all?
Q & A with Ellen Balkin, Education Manager
What is the main goal of the Artists and Residence program?
The goal of the Artists in Residence program is to increase students' exposure to the arts and arts literacy through high quality experiences. By introducing students to new artmaking tools and techniques, we hope to promote their understanding of the world around them, as well as an appreciation of their unique region.
We also hope to introduce the students to a Museum setting and instill a significant connection to the Ogden Museum. A highlight of the program is seeing the students' faces light up when they first see their artwork hanging in the Education Gallery and see themselves as true Southern artists.
How has your experience been working with the Artists in Residence program. How has it grown over the years?
The Artists and Sense of Place Residence program is the longest running educational program at the Museum. It began in 2001, before the Museum even opened its doors. I started working with the program in 2007 as the Outreach Coordinator. Now, as the Museum's Education Manager, this program is still very near and dear to my heart. At the beginning of the program, the teaching artists selected had a personal connection to the neighborhood in which the school was located and investigated that "place" through art. Over the years, as charter schools replaced neighborhood schools, the term "place" has expanded to include the city, state or even the region where the school is located. Even with these changes, the goal of the program has remained the same and creates a true collaborative work of art between artist and students.
Today, the artists work with the Museum's Outreach Coordinator, Veronica Cho, who acts as the liaison between the Museum and school and assists the artist. Veronica and the artist meet with the teachers and principal to design a suitable project that connects the artist's passions and the students' backgrounds and curriculum. The artist works in the school for three weeks with assistance from Veronica. At the end of the program, all students visit the Museum to see their work on display.
How many schools has the Artist in Residence program worked with over the years?
Since 2001, we have had 57 residencies that each work with about 200 students, so we have reached a total of 11,400 students over 17 years.  
What does the Artist in Residence selection process look like? How are schools and artists chosen for each program?
We usually reach out to artists with whom we have an established relationship and who we know will be successful working with students in a classroom setting (usually an exhibiting artist at the Ogden Museum or a local artist from the area.) The program is funded by a grant, which comes from a number of contributors, with the Maggie George Foundation being a supporter since the inception of the program. Once we have selected an artist, we then pair them with one of the many public elementary schools in Orleans or Jefferson Parish.
Q&A with Shawn Hall
How long have you been studying and making art around the topic of native bees?
Native bees have been an area of intense research for about four years now.
You view your work "from the premise that everything is an event in nature." What are some other natural topics you have explored with your artwork?
Microbes, monarch butterflies, the flora of different habitat, trees and forests, to name a few. But what I mean by that statement is that the act of creating is an event in nature, therefore part of the natural order. I don't try to separate myself from nature but try to connect myself to it, and one of the ways is through my work.
Do you have a preferred medium?
I work in various media: I'm an acrylic painter these days (watercolor, too), so that is my preferred media when painting. But half my practice is painting and the other half is multi- or interdisciplinary, with video probably being a strong preference. However, I work in video, photography, performance art and installation that can be sculptural with various materials or video-based. That question is kind of like asking my favorite color – it depends on what I'm working on!
Do you work with schools/students often and how would you describe that experience?
Yes, I do work fairly often with schools and students of all ages, as well as adults. Working with kids is great – they are so open and fresh, and so intuitive and smart. And they're at an important stage in their lives where exposure to ideas and skills can make a huge difference in their future, even though you don't know who, when or what is going to make a difference exactly. So I love to drop the seeds of important ideas and phenomena and help them develop tools to explore and express themselves around those seeds, with painting techniques and observational skills, as with this group and anything else I can give them.
Where can we find your work?
On my website and locally, in my studio or at Cole-Pratt Gallery.
Any upcoming shows?
Nothing confirmed at the moment, but I have lots of new work and lots of new work in progress, including the work on native bees, which I'm currently developing into a sculptural installation and hopefully an experimental documentary film as well. I'm really excited about both. I just came off a big couple years of shows, so it's nice to have a breather.