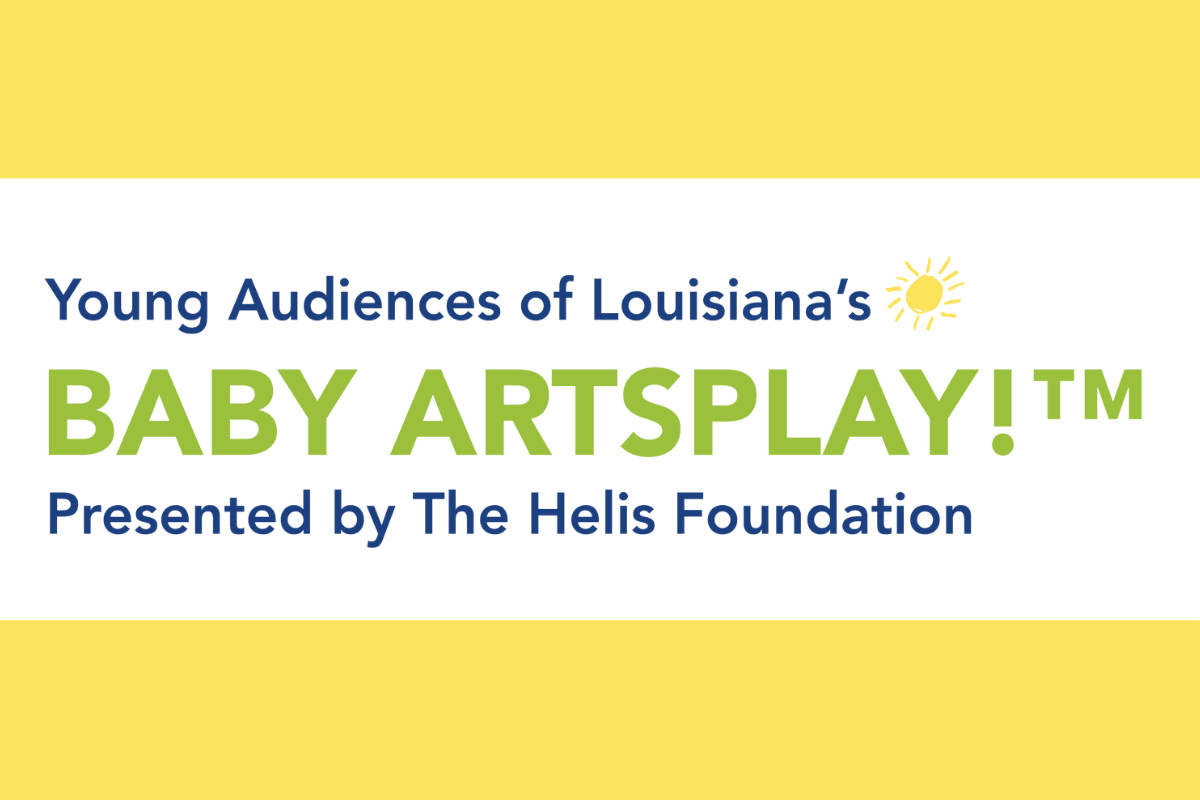 YALA BABY ARTSPLAY!
PRESENTED BY THE HELIS FOUNDATION
/// April 21, 2022 @ 9:30 am - 10:00 am
Join Young Audiences of Louisiana for "Baby Artsplay! TM," presented by The Helis Foundation.
This free 6-part workshop series is made possible by The Helis Foundation. The 30-minute workshops provide engaging arts-based activities designed to instruct caregivers on how to use the arts at home to promote early learning. Lessons are conducted by certified Louisiana Wolf Trap Teaching Artists, who have expertly crafted multi-sensory experiences that foster children's natural curiosity for learning. After each workshop, children and their caregivers can download digital Connection Cards for tips on how workshop activities can be continued at home.
April 7 – Workshop I – Oh! What A Feeling! (Emotional Development)
When it comes to emotions, your baby is a lot like you. The only difference is that they are a little less equipped to express what they're feeling…but you can show them how!
April 14 – Workshop II – Hello, Friend (Social Skills)
Social skills are learned and caregivers are in a great position to teach.
April 21 – Workshop III – Express Yourself (Early Language)
Long before they can talk, babies are processing language and observing nonverbal communications. It's all part of the build up to that first word. Learn how you can help promote early language development in your child.
April 28 – Workshop IV – Tiny Motor Scooters (Fine Motor Skills)
Fine motor skills is a fancy way of saying little muscle skills! Strengthening your child's little muscle groups will help them with picking up toys and learning to feed themselves.
May 5 – Workshop V – Baby Balancing Act (Bilateral Integration)
Did you know that something as simple as crawling is helping your child's development? They are learning to use both sides of their body to complete one action.
May 12 – Workshop VI – Tiny Household Helpers (Multiple Development Areas)
A toddler's kind of help will almost always slow you down, but it is such a great learning experience for them that it might just be worth it.
Register for one or all upcoming workshops:
May 12
About Young Audiences of Louisiana
Young Audiences of Louisiana is the leading provider of arts education and integration programs in the state of Louisiana. We offer a comprehensive and creative approach to educating young minds. Fortified with years of experience, we draw upon our city's strong arts culture to provide young people with tools to impact their worlds using art. Through our school performances, arts-integrated residencies, extended learning programs and community workshops we not only impact the children of New Orleans, but make intentional contact with the influential adults in their lives.
Learn More
Related Events