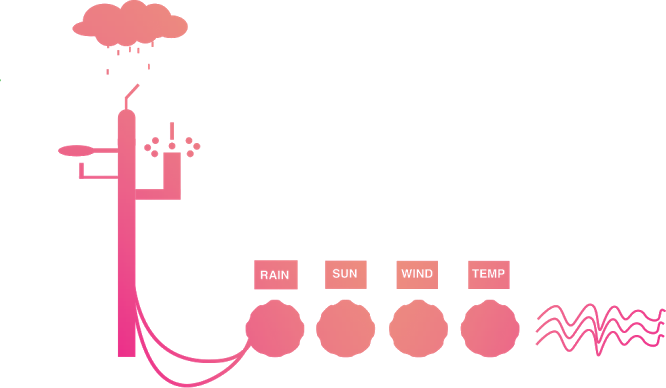 Weather Warlock
At Ogden After Hours
/// December 21, 2017 @ 6:00 pm - 8:00 pm
Event Navigation
Headless Falcon Record Release Party
Come celebrate the winter solstice with a special edition of Ogden After Hours on the 5th Floor Terrace with Weather Warlock.
Weather Warlock is a musical instrument built by New Orleans artist and musician, Quintron, which is currently positioned on the 5th Floor Terrace at the Ogden Museum of Southern Art as part of the citywide exhibition Prospect.4. The instrument is a large analog synthesizer, which is controlled, via a set of sensors, by the changes in weather. The circuitry employs sun, rain, wind, temperature, moon and lightning to affect a major-chordal drone with special sonic events occurring at sunrise and sunset. You can find more information and a 24/7 live stream of the instrument at www.weatherfortheblind.com.
Headless Falcon, Rhinestone Records is the second Weather Warlock album was made from base recordings made in Abu Dhabi during a live performance on Saadiyat Island. Quintron and New Orleans drummer, Aaron Hill (EyeHateGod), traveled to the UAE to collaborate with a  handful of local musicians for one week, composing and rehearsing this material, prior to the performance. The album relies heavily on Egyptian master musician, Sherine Thomay's electric Oud playing. Side A ventures into new territory for Weather Warlock – a 16-minute hypnotic techno-Mellotron jam with Oud, hand drums and cinematic desert noise phasing in and out. Side B is a slow burn prog-rock ripper in 9, which in addition to the Middle Eastern guest musicians, features a New Orleans horn section, snotty Gary Wrong vocals (another WW first), bass rumble from Jen Attaway (Split Lips, Unnaturls) and a prue garbe guitar solo by pete Larson (BULB records, COUCH, etc), who flew to the UAE from Kenya for the jams.
Purchase Tickets