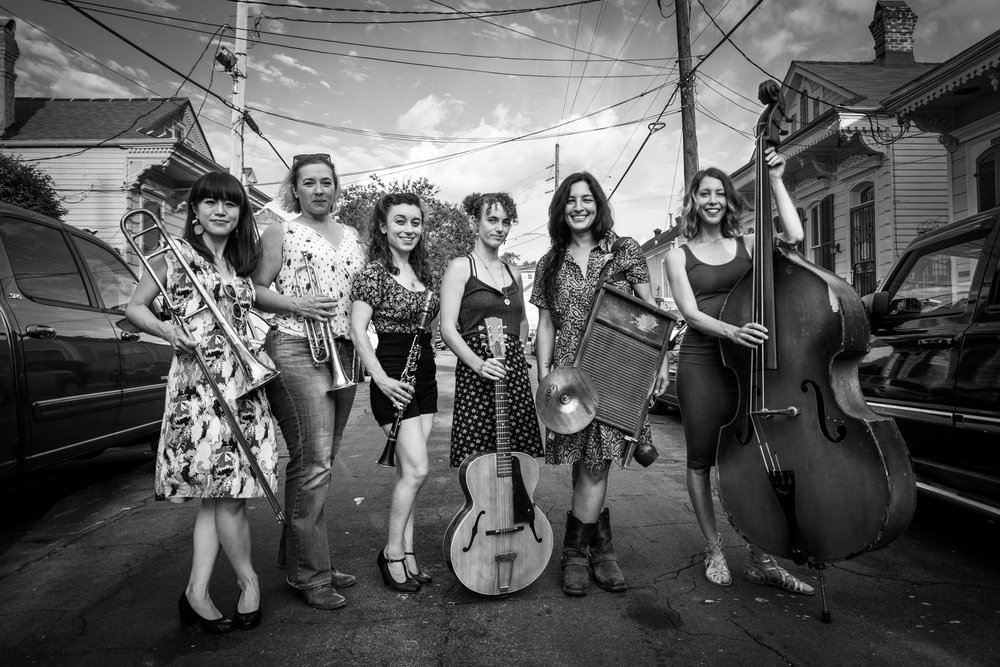 Shake 'Em Up Jazz Band
at Ogden After Hours
/// September 7, 2017 @ 6:00 pm - 8:00 pm
In June of 2016, Shaye Cohn assembled an all-female cast of traditional jazz musicians to perform for Girls Rock New Orleans. These amazing women had a blast playing together and caused a stir from their first performance. Requests to play started pouring in, and the band agreed they'd love to continue working together. Although Shaye wouldn't be able to continue as a full-time member, Haruka Kikuchi joined up, bringing along her exciting Kid Ory-inspired trombone. Marla, Chloe, Haruka, Molly, Julie, and Dizzy have been playing together since that first performance, and have been thrilled to bring some other talented New Orleans musicians into the mix from time to time.
On the strength of their first performances, and because of the stellar reputations of the individual musicians, Shake 'Em Up was immediately booked as a special guest at the Abita Springs Opry, the Abita Springs Busker Fest, the Pensacola Swing Dance Festival and the Umbria Jazz Festival in Perugia, Italy (July 2017). The band has also enjoyed a steady stream of bookings at various New Orleans clubs, including The Spotted Cat, Fritzel's, Buffa's, and The Dragon's Den. In addition to club bookings, you can catch the band later this year at the Nevermore Jazz Ball & Swing Dance Festival (St. Louis, MO / November 2017).
In June 2017, Shake 'Em Up headed into Bunny Friend Studio (brainchild of Shake 'Em Up's own Molly Reeves) and recorded a 10-track session which will be officially released on Friday, July 7th, at the band's inaugural appearance at the Umbria Jazz Festival.
Purchase Tickets