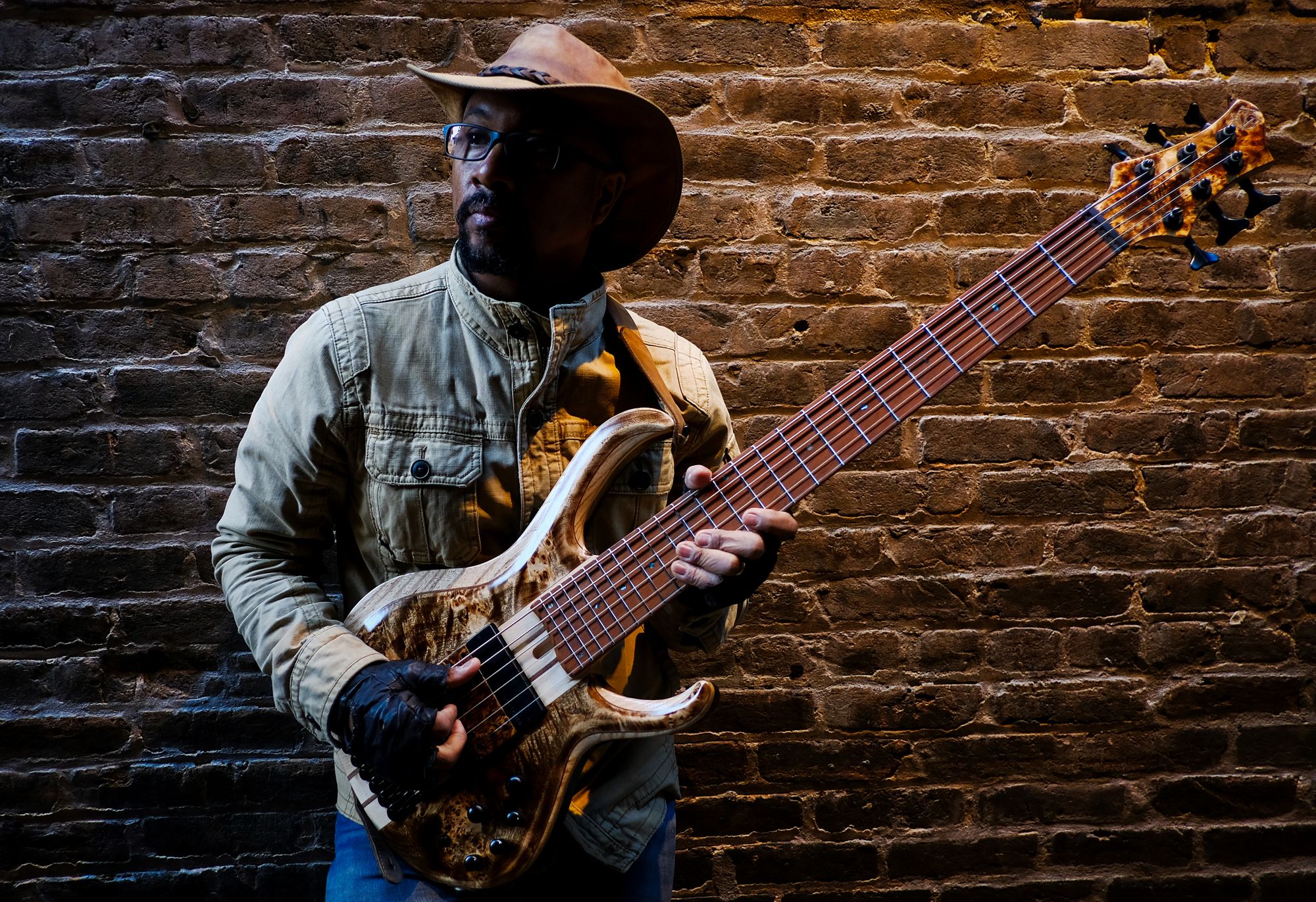 Roland Guerin
At Ogden After Hours
/// January 2, 2020 @ 6:00 pm - 8:00 pm
Purchase Tickets
With a new band and a new project entitled Grass Roots, New Orleans based producer, singer-songwriter-bassist Roland Guerin is starting a new musical chapter. Drawing from a wide spectrum of genres, including American folk, blues, zydeco, rock and jazz, Guerin creates a singular style at the heart of which are stories told through multi-layered melodies, rhythms and expressive lyrics in the range of Steely Dan, John Mayer, Sting and Peter Gabriel.
Raised in a musical family – his father was a great lover of jazz and classical music, his mother, a blues and zydeco bass player – Guerin began playing bass at the age of 11. Throughout his formative years, Guerin was strongly influenced by pop, rock and R&B music of the 70's and 80's. Bands and artists such as Cameo, Dazz Band, Rush, the Brothers Johnson, Gerry Rafferty, America, and Booker T & The MG's seeded his love for great songs and inspired him to write music of his own.
While studying Marketing at Southern University in Baton Rouge, Guerin joined legendary jazz educator Alvin Batiste's Band, The Jazztronauts. Having inherited much of Batiste's musical innovations and concepts, Guerin developed ways to bring his own musical voice to life. The jazz genre became his avenue toward success. Over the course of his career, Guerin toured and performed with numerous legendary musicians, such as George Benson, Jimmy Scott, Frank Morgan, Vernel Fournier, Gerry Mulligan, Allen Toussaint, John Scofield, Mark Whitfield, Ellis Marsalis, and Marcus Roberts. He also participated in the recording of numerous albums, including the Blind Boys of Alabama's Grammy Award winning album Down in New Orleans, Marcus Roberts's Grammy Award nominated recording of George Gershwin's classic Rhapsody in Blue, and Allen Toussaint's album Connected.
As a member of the Marcus Roberts Trio from 1994 to 2009, Guerin performed at the head of symphony orchestras across the world, among which the Berlin Philharmonic, the Boston Symphony, the Chicago Symphony, and Seiji Ozawa's New Japan Philharmonic. From his collaboration with Ozawa and Roberts, Guerin developed a deeper understanding and appreciation of orchestration and arrangement, both of which carry great importance in his own musical composition.
In 1998, Guerin released his first album, The Winds of the New Land, featuring Peter Martin on piano, Nicholas Payton on trumpet, Donald Edwards on drums, and Mark Whitfield on guitar. The record was acclaimed for its innovative style of composition and arrangement. JazzReview called it "a literal piece of art", while the New Orleans Magazine named Guerin a Contemporary Jazz All-Star. He followed up with an album from the Roland Guerin Sextet, Live at the Blue Note, released by Half Note Records, and released 4 more successful albums in the following decade.
Guerin joined the Allen Toussaint Band in 2008, touring and performing with Toussaint until his passing in 2015. During the time with Toussaint, Guerin found his way back to his musical roots. Integrating American folk melodies, blues, zydeco, African rhythms, and rock with jazz soloing and orchestral arrangements, Guerin creates an entirely new and singular musical experience. Shortly afterwards Guerin was asked to join the band of legendary Dr John and soon after to become his last Musical Director.
In August 2016, Guerin released a single entitled Black Coffee. His new album GRASS ROOTS was released on October 18th 2019. STICK TO THE BASICS is the first single on GRASS ROOTS with the release date being April 26th 2019 worldwide.
Related Events