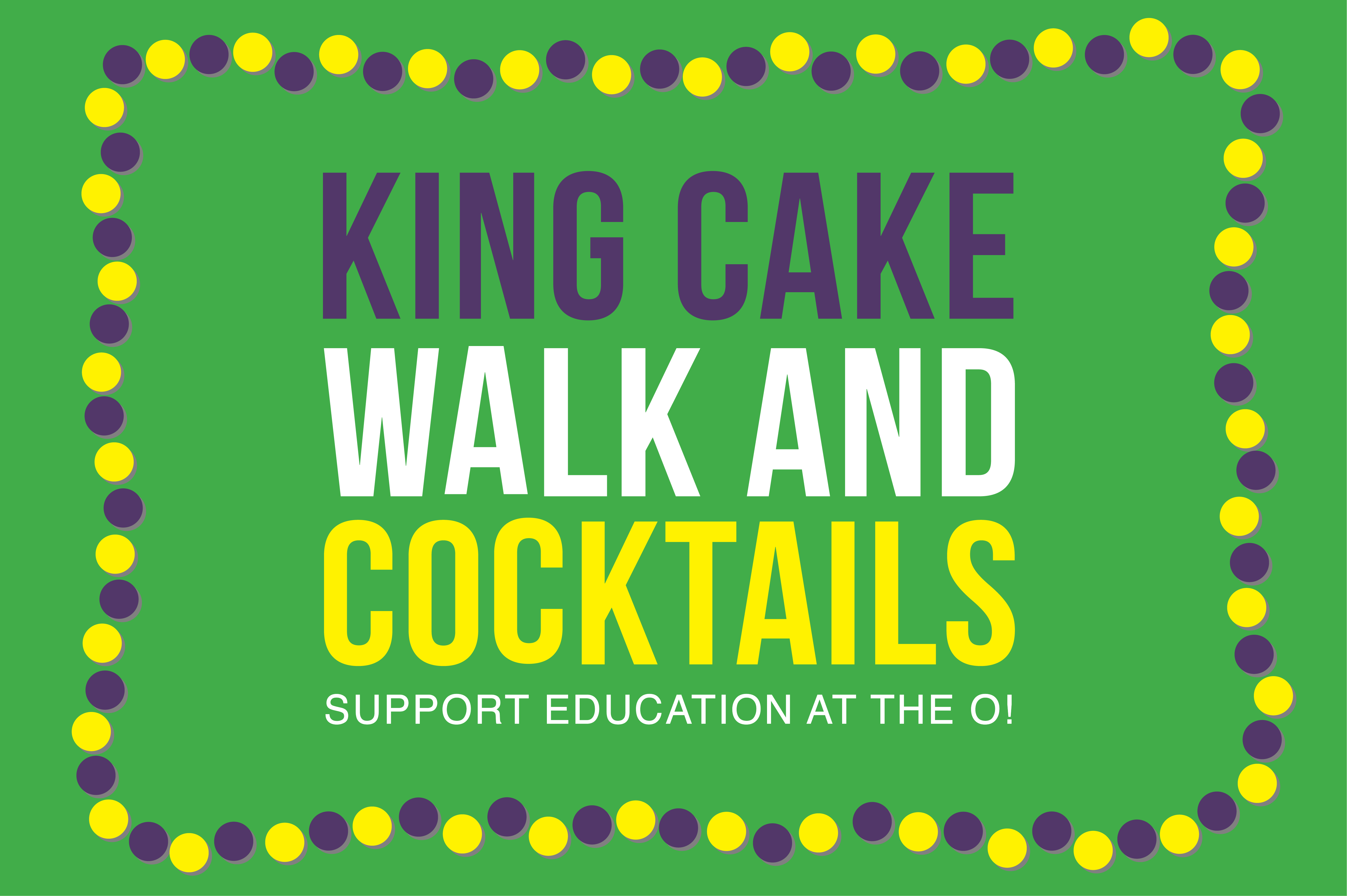 King Cake Walk and Cocktails at the O
Benefitting Ogden Museum Educational Programming
/// February 4, 2020 @ 6:00 pm - 8:00 pm
Support Education at the O!
Help expose the New Orleans community to the art of the American South by purchasing a ticket to King Cake Walk and Cocktails at the O, benefitting educational programming at the Ogden Museum of Southern Art.
Your ticket to King Cake Walk and Cocktails at the O includes King Cake from all the top local bakeries, plus a drink ticket for the O Bar! Enjoy a night of music and fun vendors, plus a raffle and opportunity to vote for your favorite cakes! Those who purchase their event tickets online, in advance of the event, are granted one additional drink ticket. Drink tickets will be distributed at check-in.
Through educational tours, school outreach programs, summer and holiday camps, free family days and other programming, Ogden Museum is able to introduce adults and kids to Southern artists and provide them with an outlet for creative expression and exploration.
While our educational programs reached more than 17,000 in 2019, we are always eager to share the Museum with new audiences. Your support will allow more and more people to See the South!
Tickets are almost sold out! There will be limited tickets available at the door so please guarantee your spot by purchasing online today!
$20 member; $25 non-member
FEATURED KING CAKES 
Bakery Bar by Debbie Does Doberge
Bittersweet Confections
Breads on Oak
Cake Cafe and Bakery
Compagnon Bakery
Croissant D'Or
Gerald's
Girls Gone Vegan
Leo's Bread
Levee Baking Company
Loretta's Authentic Pralines
Marguerite's Cakes
Molly's Rise and Shine
Randazzo King Cakes
Rouse's
Sweet Life Bakery
Tartine
VENDORS
Alligator Pear Goods
Elektra Cosmetics
Fringe + Co.
Hex FX Masks
SPECIAL PERFORMANCES BY
Amelia EarHawts
DJ Heelturn
Streetcar Strutters