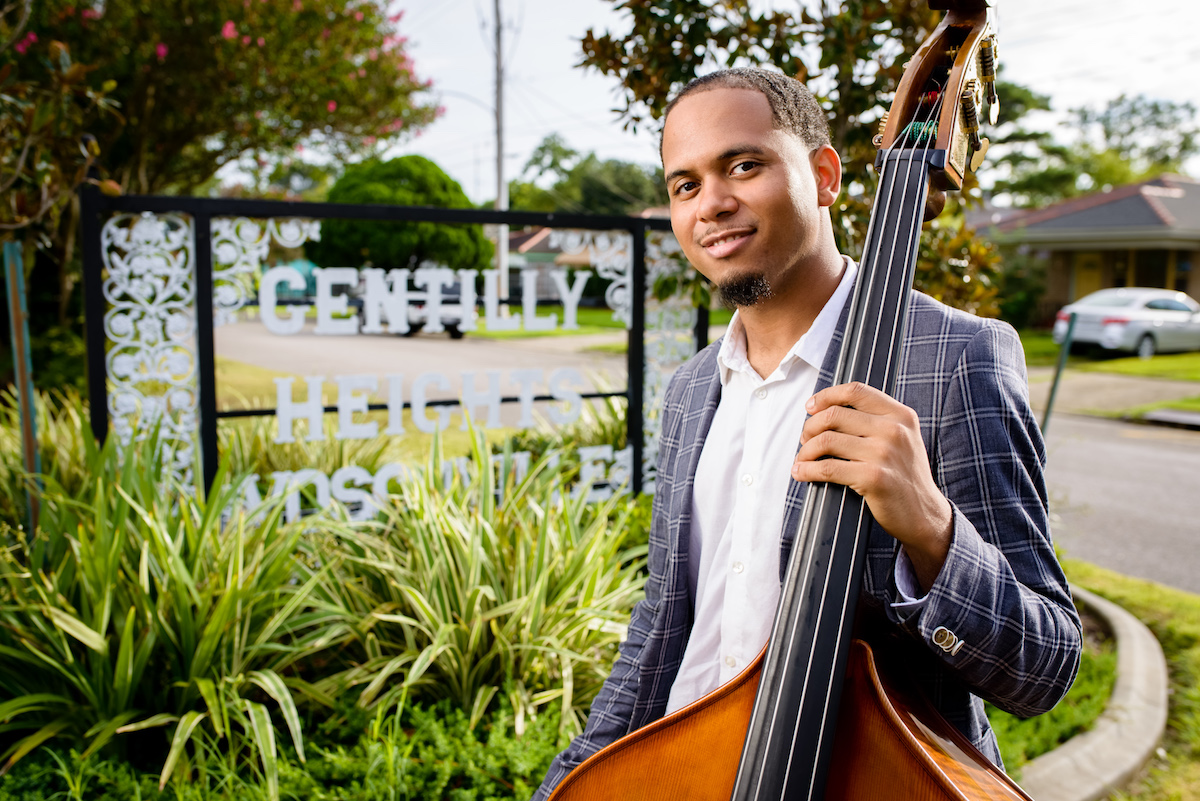 Jasen Weaver
at Ogden After Hours
/// June 6, 2019 @ 6:00 pm - 8:00 pm
Based in New Orleans, Louisiana, Jasen Weaver is one of the most in demand bassists in the
city. When he's not leading his own sextet, you can find him on the bandstand with notable
artists such as Donald Harrison and Jason Marsalis. He is also a regular at some of the most
recognized venues in New Orleans such as Preservation Hall, Snug Harbor, and Bacchanal
Wine.
Other notable artists Weaver has performed with include: Adonis Rose, Amina Figarova, Bill
Summers, Brian Lynch, Christian Winther, Corey Fonville, Dee Dee Bridgewater, Delfeayo
Marsalis, Don Byron, Ellis Marsalis, Emmet Cohen, Germaine Bazzle, Godwin Louis, Herlin
Riley, Jamison Ross, Jeremy Pelt, Joe Dyson, Jon Batiste, Juvenile, Lucien Barbarin, Mannie
Fresh, Maurice Brown, Mike Clark, Nicholas Payton, Quiana Lynell, Sasha Masakowski,
Shannon Powell, Stefon Harris, Steve Masakowski, Steve Turre, Sullivan Fortner, Terell
Stafford, The Session, Theo Croker, Victor Goines, Vincent Gardner, Wayne Escoffery, Wes
Anderson and more.
A graduate of the prestigious New Orleans Center for Creative Arts (NOCCA) as well as the
University of New Orleans, Jasen was positioned to be an impact player in the music scene
from a very young age. While in high school he was also a member of the Tipitina's Internship
Program under the tutelage of the great Donald Harrison, whose band he joined years later.
Aside from being an active performer, Jasen also gives back to the music community by
teaching. He was a student teacher at the Don Jamison Heritage School of Music while in
college and is currently a faculty member at the Sanaa Music Workshop.
Jasen has toured in Europe, Australia, South Africa, Honduras, Japan and many cities in the
United States. He has played legendary venues such as Yoshi's (Oakland, CA), The Jazz
Showcase (Chicago,IL), The Apollo Theatre (New York, NY), and Ronnie Scott's (London). He
also has made a name for himself as a recording artist having appeared on albums by Carmela
Rappazzo, David L. Harris, Dee Dee Bridgewater, Dr. John, The Ellis Marsalis Center for Music
Jazz Orchestra, Jason Marsalis, the New Orleans Jazz Orchestra and many more.
As a bandleader, Jasen released his debut album, "The Voscoville" in March 2018 and made
his first appearance at the world famous New Orleans Jazz and Heritage Festival that same
year. He has been featured on Saturday nights at Bacchanal Wine since Fall 2012. Sammy
Stein, of Something Else reviews, may have summed it up best: "Jasen has the authority and
privilege to surround himself with talented and also serious musicians. You can hear Monk,
maybe Shorter and definitely NOLA in these tracks. More than that, you hear the heart of a
young jazz musician who, if this is his first release of his own compositions and arrangements,
we are definitely going to be hearing more of."