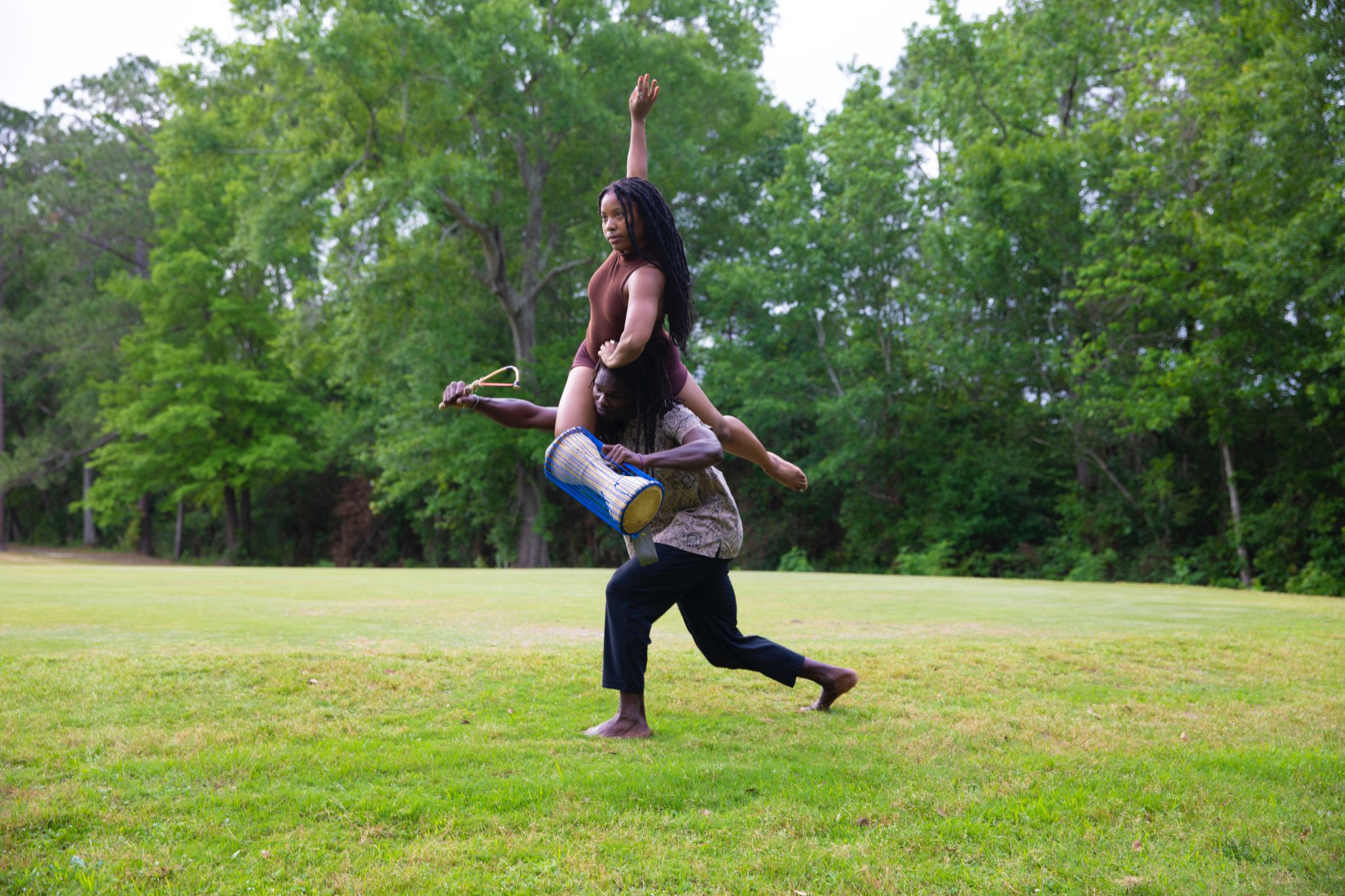 IYA-ORISHA: presented by Dow-Dance Company featuring Binge Dance Festival International Artist in Residence Arouna Guindo
at Ogden After Hours
/// July 20 @ 6:00 pm - 8:00 pm
IYA-ORISHA is the fictional journey through the tales of West African divinities. The performance is composed of a Hip-Hop cypher, a sculpture and painting installation, WHAT SLITHERS BENEATH THE BAOBAB TREE by Dow-Dance Company, and the solo ANANSI by Binge Dance Festival Artist in Residence, Arouna Guindo. This performance is a journey inspired by West African spirituality told in an Afrofuturism lens.
Binge Dance Festival is a multicultural program of Dow-Dance Company in partnership with the New Orleans Cultural and Tourism Fund designed to provide opportunities to BIPOC choreographers in New Orleans to create and present their work through local, national, and international collaboration between artists in New Orleans and Benin Republic.
Choreography by Caeb Dowden and Arouna Guindo
Dancers: Céline Seiber, Ceylon Seiber, Iman Marshall, Amari Patterson, Kristal Jones, Leah Logsdon
About the Choreographers:
Arouna Guindo
Arouna Guindo is an multidisciplinary artist from Benin Republic in West Africa. Arouna is known for being a Hip-Hop cultural figure in Benin with his dance companies, Dream-Key's Collective and Trip-All. He has traveled to teach his blend of Hip-Hop, traditional Benin dance, and Capoeira in Europe and Africa. As the proud recipient of a African Cultural fund award, TOGO Creatif, Prince Claus fund receipt and more, he produces himself in public space in 24 to 48 hour performances and installations. In 2023, he was accepted as a Binge Dance Festival International Artist in Residence in New Orleans, Louisiana.
About Caleb Dowden-Guindo:
Caleb Dowden-Guindo is a researcher and choreographer from New Orleans, Louisiana. After obtaining a BFA in 2021 from the State University of New York at Purchase, she received a Fulbright Award in the Creative and Performing Arts to conduct independent research in Benin West Africa. While conducting research in Benin, Caleb was able to perform with Walô Dance Company and produce her own work with Le Centre and the Borna Soglo Art Gallery. Mrs. Dowden-Guindo is the proud Director of the Big Easy nominated festival, Binge Dance Festival and the proud Director of Dow-Dance Company. As the Director of D-DC, Caleb has produced her company locally, nationally, and internationally. Her main goal as Director is to continue to create dance work and programs that connect her African American and West African heritage.
Caleb and Arouna teach their developing movement fusion of Benin Republic traditional dance, Capoeira, and contemporary dance technique in their course Afro-Atlantic Vibrations in New Orleans and Benin Republic.
Free for members. $13.50 for non-members.
Purchase Tickets
Photo by Aaron Duplessis