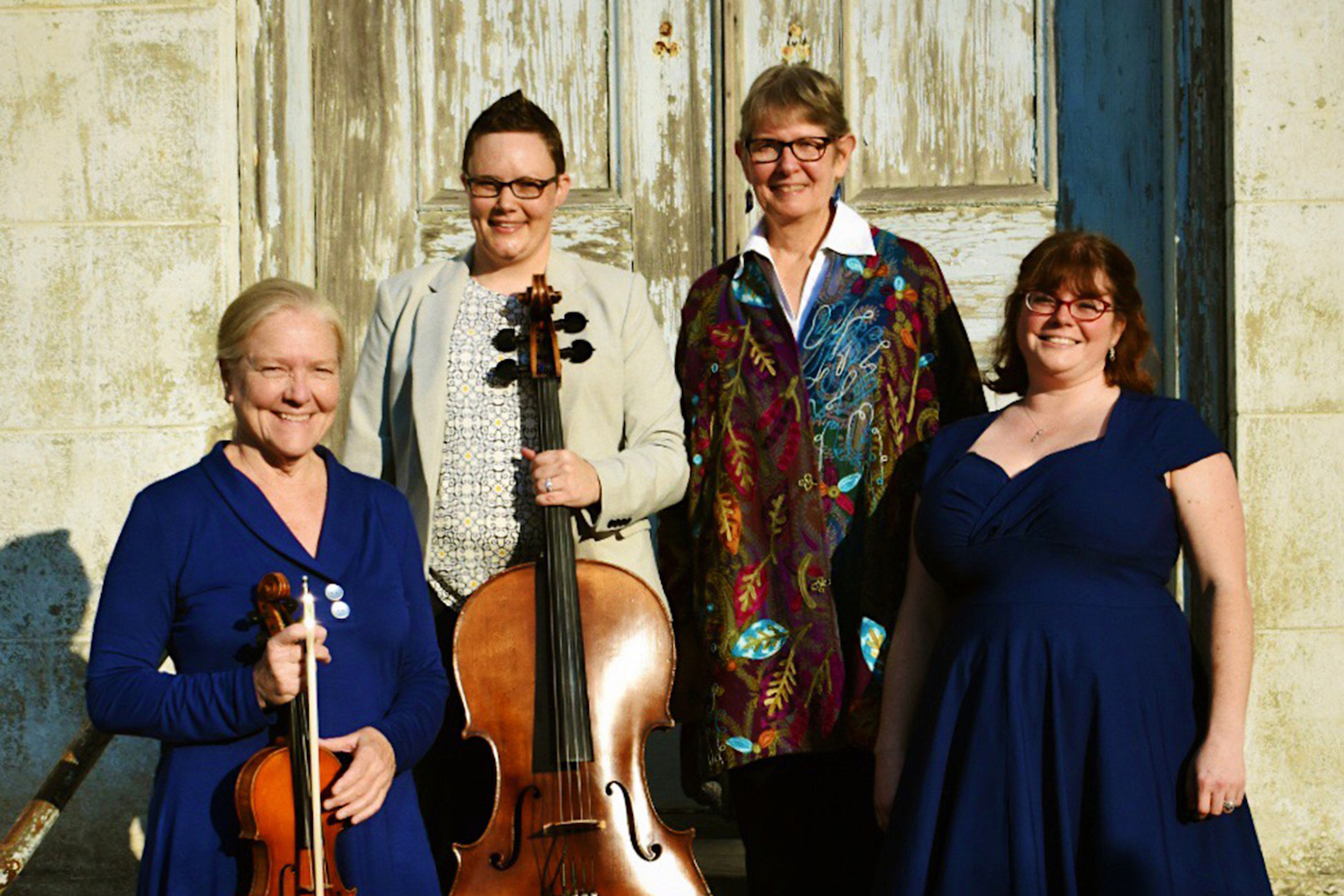 Indigo Strings
at Ogden After Hours
/// May 9, 2019 @ 6:00 pm - 8:00 pm
Event Navigation
Indigo Strings is a piano trio plus vocals. Think that sounds classical? It ain't necessarily so. A unique ensemble comprised of piano, violin and cello, topped off with a vibrant soprano presents the Great American Songbook at its best. This confluence of classical training, the influence of Tin Pan Alley and the heat of New Orleans brings out the best of the American Classics. 
Starting as a piano violin duo in 2015, Indigo Strings brought a new twist to hit songs of the '30s, '40s and '50s. Expanding to include soprano and cello, the foursome evolved into a tight ensemble with a jazzy vibe. Audiences in New Orleans, Baton Rouge and the Gulf Coast have tapped their toes to the tunes of Indigo Strings, delighting in the music of years gone by.
Purchase Tickets
***
Marta Vincent is a music therapist, pianist and a Great Highland bagpiper in the New Orleans area. She graduated from Loyola University where she was selected as a competition winner to perform a Mozart piano concerto with the university's orchestra. She has performed throughout the New Orleans area on both pipes and piano. As a bagpiper, was honored to ceremoniously present President William Clinton, President George H.W. Bush and Secretary of State Madeleine Albright. She also piped for several Rod Stewart performances in the Louisiana Superdome. In her work as a music therapist, Marta has been fortunate to meet and ultimately be influenced by many musicians from the early eras of jazz, swing and gospel. Listen closely and you may sense these many flavors of music coming from the piano.
Anne Hibbs is a professional violinist and teacher with a passion for live performance and helping others find their own music. After winning scholarships and earning degrees from Louisiana State University and Loyola University in performance, Anne toured throughout Europe as a soloist with Loyola's chamber orchestra. She has played classical music professionally with the Baton Rouge Symphony and the Orquesta de Camara Vericruzana in Mexico. She has also provided stage music for Liberace and Tommy Tune at the Saenger Theatre in New Orleans. Anne entered the film industry as on-site violin coach with Academy Award-winning production, Twelve Years a Slave. Currently, Anne performs in the New Orleans and the Gulf South region playing classical music with the Fine Arts Ensemble, country classics at the Abita Opry and Celtic fiddle with New Orleans Strathspey and Reel Society.
Rebecca Holmes is a music educator with the St. John the Baptist Parish public schools. Rebecca is the district Master Teacher of music, a unique role which allows her to represent district music teachers as they strive to develop quality, equitable music experiences for all students. She offers focused instructional coaching and leads music teachers in professional development activities. Rebecca is also a teaching fellow with Louisiana A+ Schools, a state-wide arts integration initiative. Through this educational network, she facilitates creative and meaningful professional development, empowering academic content teachers to infuse instruction with the arts. She received her professional degree in Music Education from Loyola University. Though Classically trained, Rebecca enjoys promoting the versatility of the cello through the performance of a variety of music.
Arynne Fannin is a graduate of the Newcomb College and the School of Liberal Arts at Tulane University, with an M.F.A. in musical theatre. She was a soloist in the inaugural concert of the Clara del Marmol and Annabelle Bernard Vocal Series. She has delivered lecture concerts for the Jane Austen Literary Festival in Mandeville, LA and for the New Orleans Jane Austen Society. She also performs as a vocalist with the New Orleans Strathspey and Reel Society.