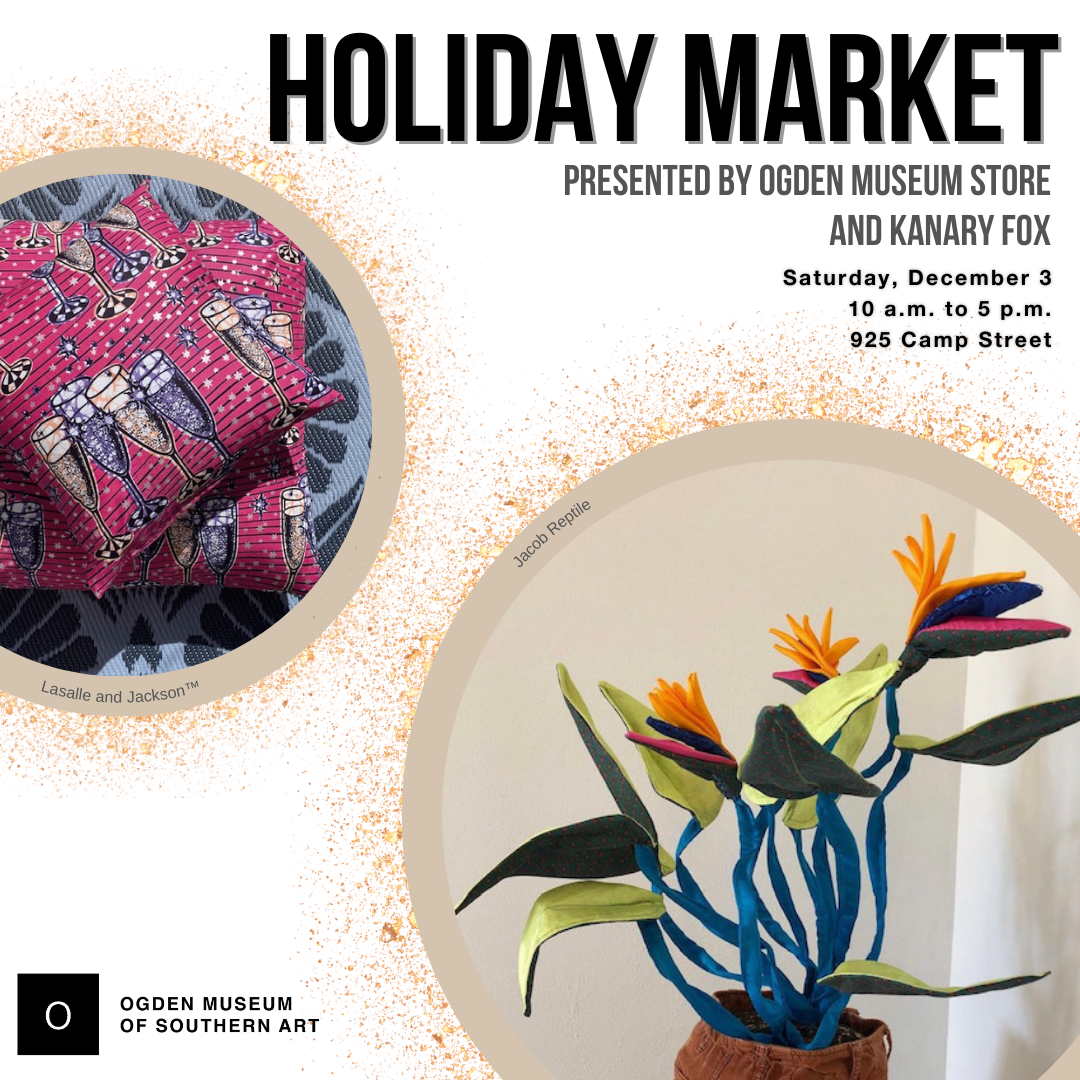 HOLIDAY MARKET 2022
PRESENTED BY OGDEN MUSEUM STORE
/// December 3, 2022 @ 10:00 am - 5:00 pm
Shop this year's Holiday Market on Saturday, December 3rd, from 10:00 a.m. to 5:00 p.m., and find the perfect gift for a loved one. 
While you shop, enjoy live music by Teena May Nola + Rocky, grab a bite to eat while you browse with Little Kitchen Nola and watch Live Painting by Tyrell Shaw. 
2022 Holiday Market Artisans:
Adie Morton Art – Resin art, insect shadow boxes, prints, and paintings.
By Our Hands Wellness – Herbal teas and crochet items.
Chubbs Made Leather – Leather wizard.
Coralie Jewelry – Unique jewelry that repurposes found items including sheet music, postage stamps, cards and maps.
Crazy Plant Bae –  Expand your passion for plants, products and knowledge.
Once Around The Kitchen – Jams, Jellies, and Hot Sauces that prioritize accessibility through packaged goods from Once Around the Kitchen.
Earth Reverie – Handmade earth-based accessories.
Exotica Apparel – Paintings, crochet and handmade items.
Grey Bird Baking Co. – Lavish desserts made with love.
Inhabit Oyster Candles – Locally grown and hand-poured soy oyster candles.
Jacob Reptile – Jacob Reptile is a native New Orleanian, multi-media artist who specializes in fiber arts. His personal artwork focuses on larger-than-life creatures and interactive curious objects.
Jennifer Waller
Lasalle & Jackson™ – Subtropical Soul Handmade in New Orleans.
Lily Fein – Sculptural vessels that represent the body and movement.
Maddie Stratton – New Orleans-based painter and creator of Art History Coloring Books.
Madonna Lily – A women-owned company based in New Orleans, Louisiana, that offers all natural body care and skincare handcrafted in small batches.
Oxalis Apothecary – 100% Natural Skincare –  from Plant-To-Body. Hyper-clean, effective, approachable plant and mineral based products for everyday rituals.
Pyramids & Rainbows – Colorful paintings and prints.
Breathe Enlight  – Helping women realize their worth and embrace their light through body care products.
Shop Mad Radd – Upcycled Denim + Secondhand & Vintage pieces.
Simply Shenelle – Fragrances Made in NOLA spreading love and light.
Statement Goods/The Collective Shop – Operated by artists Toni and Alysia who share a passion for art, stationary and handmade goods.
Swiet Stuff – A wearable art studio focusing on #artWORK and empowARTment opportunities in communities around the world.
The Black Swan Ministries – Birth Chart readings, Love readings, channeled messages, and more.
Venus the Seam Ripper – handsewn hair pieces including colorful bonnets, scrunchies, and bows.
To make this year's Holiday Market even more special, Ogden Museum Members will receive 20% off all in-store purchases.
Not an Ogden Museum Member? Join today! Ogden Museum members experience the art and culture of the American South through exclusive member privileges including unlimited free admission, private exhibition previews, discounted admission tickets for guests, discounts at the Ogden Museum Store and so much more!
Join Today