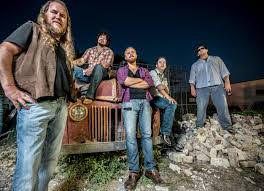 Dave Jordan & the NIA
at Ogden After Hours
/// January 26, 2017 @ 6:00 pm - 8:00 pm
Come celebrate Dave's 45th birthday with a special acoustic set by Dave Jordan & the NIA. Jordan is a New Orleans based singer/songwriter/bassist and guitar player and our annual King Cake Walk. Over the course of nearly 20 years and 3 bands, he has produced or co-produced 6 albums, played nearly 2000 shows nationwide and performed or recorded with some of the most esteemed musicians in New Orleans and across the country including Art Neville, Anders Osborne, Joe Krown, Bill Summers and performed with such bands as the Meters, Little Feat, Widespread Panic, Bob Weir's RatDog, Los Lobos and more. His work as founder and frontman of the long running funk/roots band, Juice, landed the band a Best of the Beat award for Best Emerging Funk/Soul/R&B Band and nominations for Best Roots Rock Band and  Best Roots Rock Album  for 2000's Anders Osborne produced, All Lit Up. His song  Biggest Little Shrimp In Town- the title track of an award winning short film- was re-recorded by Art Neville and the Beverly Hills Short Film Festival created an award for Best Song to recognize their collaboration.
ALSO happening is our annual King Cake Walk! Taste-test King Cakes from Sucre, Cake Cafe, La Boulengerie, Shaya , Tartine, Rouses, Emeril's, Bittersweet Confections, Gerald's Donuts, and Duong Phong! Come eat and vote for your favorite to be featured on NOLA.com! $13.50 general admission and free for members!
AND Tchoup Industries will be at the Ogden on Thursday during OAH and the Cake Walk for a trunk show featuring Mardi Gras themed bags from their new "Beads and Brass" collection!
Ogden After Hours is a weekly entertainment series featuring Southern musicians, films and more. Each OAH includes an art activity for kids in our Education Gallery, a cash-bar and our galleries are open for viewing. OAH is free for museum members and $13.50 for guests.
Purchase Tickets