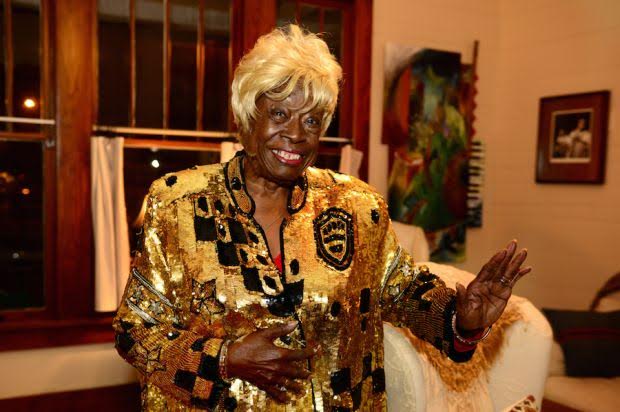 Carol Fran
at Ogden After Hours
/// June 1, 2017 @ 6:00 pm - 8:00 pm
It is our pleasure to welcome back living legend Carol Fran. If you didn't get a chance to see her last year, you don't want to miss Ogden After Hours on June 1st when Carol will be performing with John Fohl, Reggie Scanlan, and Ben Sandmel.
Named an NEA National Heritage Fellow in 2013, Carol Fran was born in 1933 in Lafayette, LA. She first began her career as a teenager singing jump blues with the Don Conway Orchestra. Eventually, Fran moved to New Orleans and married saxophonist Bob Francois, shortening her new last name to "Fran." She became a fixture on the Bourbon Street club circuit, and cut her first record in 1957 for Excello Records, a single titled "Emmitt Lee." Fran became a featured vocalist with blues legend Guitar Slim in 1958, and following his death, sang with Lee Dorsey and Joe Tex.
In the 1980's Fran married blues guitarist Clarence Hollimon and relocated to Texas. Together with Hollimon, she toured extensively in the U.S and Europe, releasing three albums, while teaching blues to students through the Texas Folk Resources organization. After Hollimon's death, Fran returned to Louisiana and released a solo album in 2001. Though she suffered a stroke in 2007, Fran returned to the stage in 2008 at the New Orleans Jazz and Heritage Festival in a performance USA Today described as "potent and poignant." Fran was nominated for a Blues Music Award in 1992 and 2001. She received a Louisiana Governors Arts Award as Folk Artist of the Year in 2006, and in 2008 received a Lafayette City Parish Council Distinguished Citizen Award. In 2012 she received the Slim Harpo Blue award for Female Legend of the Year.
Performing in both English and Creole French, her distinct voice and piano style of swamp blues is characterized by laid back vocals and Cajun and Zydeco rhythms.
Purchase Tickets
Related Events