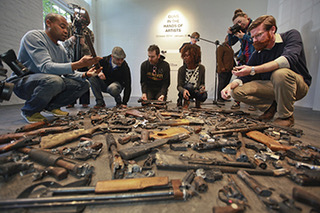 Book Signing: Guns in the Hands of Artists by Jonathan Ferrara
During Ogden After Hours
/// April 12, 2018 @ 6:00 pm - 8:00 pm
Jonathan Ferrara will be here to sign copies of "Guns in the Hands of Artists," the companion book to the traveling exhibition of the same name.
Guns in the Hands of Artists is a community-based social-activist artistic project that is currently traveling the country. Decommissioned guns taken off the streets of New Orleans were distributed to over 30 internationally known artists to use as the raw materials in creating works of art addressing the issue of guns and gun violence in our society. The exhibition fosters a new conversation by bringing the discussion into the realm of art; without the often partisan and polarized politics that surround the issue.
"Guns in the Hands of Artists" includes essays by Walter Isaacson, Senator Tim Kaine, Lupe Fiasco, Richard Ford, Joe Nocera, Trymaine Lee, Lolis Eric Elie, John M. Barry, Dan Cameron, Lucia McBath, Harry Shearer, Jonathan Ferrara, Brian Borrello, Maria Cuomo Cole, Michael Waldman, E. Ethelbert Miller, Mayor Mitchell J. Landrieu, Congresswoman Gabrielle Giffords and Captain Mark Kelly.
In his new book, Ferrara brings a hauntingly beautiful new perspective to the national conversation about gun violence in America and how we understand it. Required reading for anyone looking to shift the American gun violence discussion from on rooted in debate to one striving for solutions. – Dan Gross, president of the Brady Campaign to Prevent Gun Violence
Photo Credit: copyright Charlie Varley