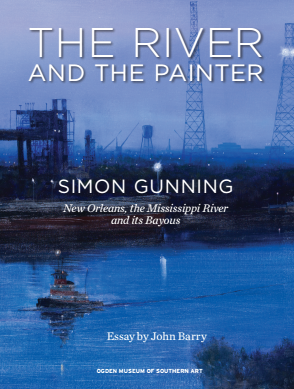 Book Signing
Simon Gunning, "The River and the Painter: New Orleans, the Mississippi River and its Bayous"
/// December 6, 2016 @ 6:00 pm - 8:00 pm
Artist Simon Gunning will be signing his newly released book "The River and the Painter: Simon Gunning, New Orleans, the Mississippi River and its Bayous," published by Ogden Museum of Southern Art on Tuesday, December 6 at Art of Giving between 5:00 and 8:00. Books will be available for purchase at a retail price of $59.
The book includes over 90 full-color plates of his paintings and sketches and includes an introductory essay and interview with the artist by author John M. Barry. This book is the very first survey of Gunning's work and depicts his three collections of paintings: The River, The City, and The Bayous and Swamps.
Produced in conjunction with the exhibit: Simon Gunning and the Southern Louisiana Landscape is on view until Feb 5th.
Australian-born Simon Gunning left his native country in the 1970s with plans to attend a graduate program in England for painting. On his way, he traveled through the United States and to New Orleans, where he was captivated by the city's urban landscape set amongst a lush backdrop of tropical flora and cypress swamps. Gunning moved to New Orleans in 1981 and began painting its neighborhood streets and later, the natural scenery of South Louisiana. Gunning's paintings depict a range of local subject matter, such as the Creole cottage-lined streets of the city's historic neighborhoods, passing barges on the Mississippi River, and the serenity of two fishermen in the Honey Island Swamp. This exhibition will highlight Gunning's mastery of the Southern Louisiana landscape, which he has been painting for over thirty years.
John M. Barry is a prize-winning and New York Times best-selling author whose books have won multiple awards. The National Academies of Science named his 2004 book The Great Influenza: The story of the deadliest pandemic in history, a study of the 1918 pandemic, the year's outstanding book on science or medicine. His earlier book Rising Tide: The Great Mississippi Flood of 1927 and How It Changed America, won the Francis Parkman Prize of the Society of American Historians for the year's best book of American history and in 2005 the New York Public Library named it one of the 50 best books in the preceding 50 years, including fiction, nonfiction, and poetry. His latest book is Roger Williams and The Creation of the American Soul: Church, State, and the Birth of Liberty, a finalist for the Los Angeles Times Book Prize and winner of the New England Society Book Award.
Generous Supporters of the book:
Coleman Adler, James and Minnie Coleman, Tommy and Dathel Coleman, Dathel and John Georges, Anna Beth and John Goodman, Bill Goldring, Jeffrey and Walton Goldring, The Helis Foundation, Gregory Holt and Lucy Burnett, Allison Kendrick, Cathy and Hunter Pierson, Arthur Roger , Karen Solomon, Michael Wilkinson