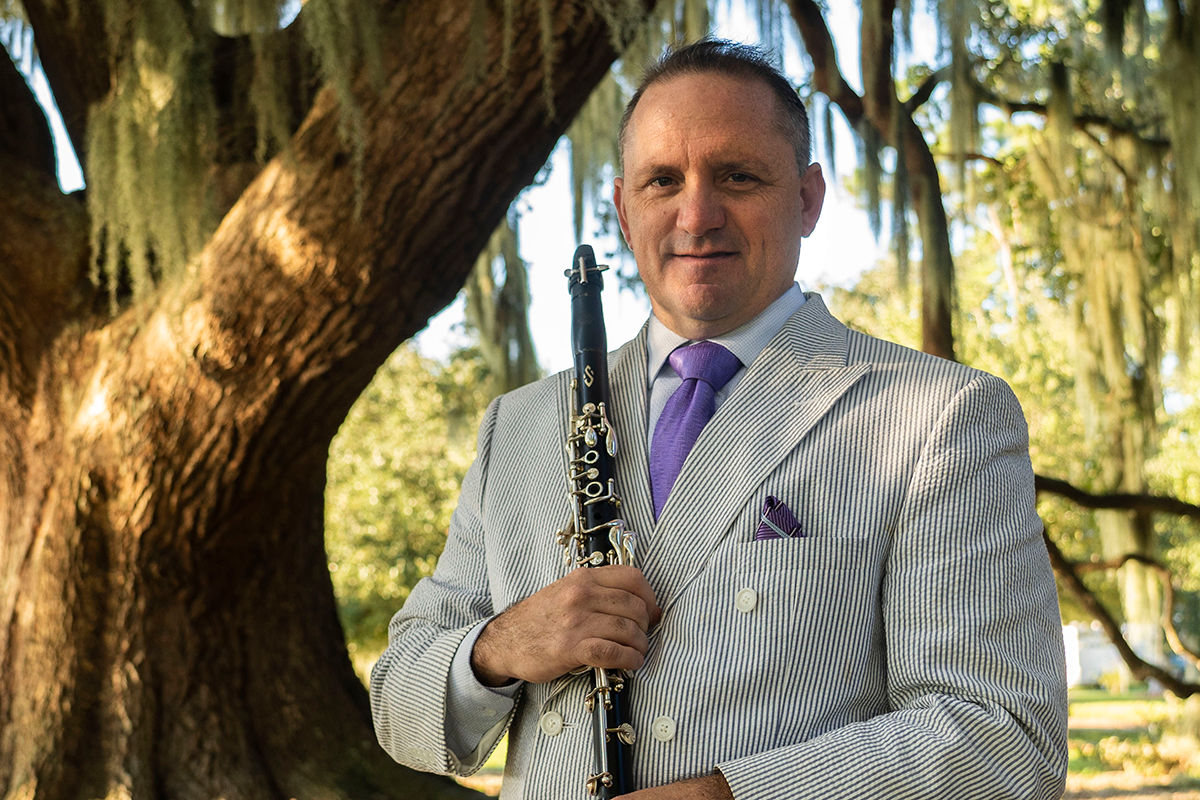 Ben Redwine and Don Vappie
At Ogden After Hours
/// August 1, 2019 @ 6:00 pm - 8:00 pm
About Ben Redwine
New Orleans based clarinetist Ben Redwine feels equally comfortable playing Brahms or Ellington. He is devoted to the performance of new classical music and old jazz, as well as to teaching the next generation of performers and teachers.
Ben served as an Assistant Professor at The Catholic University of America in Washington, DC from 2012-2016 and was woodwind professor at Southern University in Baton Rouge, Louisiana from 2017-2019. In 2014, he retired after 27 years in then US military band system, the majority of time serving as the e-flat clarinet soloist with the US Naval Academy Band in Annapolis, Maryland. He has been a featured soloist at seven International Clarinet Association Clarinet Fests in the U.S. and Europe, and has performed extensively as a freelance musician nationally and internationally. In 2016, he moved to the New Orleans area to pursue performance opportunities in the birthplace of jazz. Since relocating to Louisiana, he has been a regular performer with the Louisiana Philharmonic, and Baton Rouge Symphony Orchestras.
In addition to leading his popular traditional-style jazz band, the Redwine Jazz Band, Ben is a Selmer Paris performing artist and a D'Addario performing artist, presenting concerts and master classes internationally. He has recorded for Mapleshade, Naxos, Vin Rouge, Big Kahuna, and AmCam record labels, and composed and performed new music for 1920s era silent films featuring actors Charley Chase and Harry Langdon, released on DVD box sets by All Day Entertainment. All of Ben's recordings can be found at his website, redwinejazz.com.
Ben earned a bachelor of music education degree from the University of Oklahoma, a master of music degree from Louisiana State University, and a doctorate degree at The Catholic University of America, studying clarinet performance with a minor in Latin American music history. He has studied with Loris Wiles, David Etheridge, Steve Girko, Steve Cohen, Ignatius Gennusa, Ben Armato and Paul Cigan.
Founder of the company RJ Music Group, Ben manufactures quality products for discriminating musicians, including Gennusa mouthpieces, the Reed Wizard, and other products and books by Ben Armato.
Ben lives on the north shore of Lake Ponchartrain with his wife, Leslie, and their flock of chickens.
About Don Vappie
To say that Don Vappie has had a busy musical career would be an understatement. He has several overlapping careers as a banjoist, guitarist, bassist, singer, arranger-composer, educator, lecturer, record and event producer, and expert not only about New Orleans jazz but its place and importance in the contemporary music scene. 
Born and raised in New Orleans, he was surrounded by music growing up. Many of his relatives played music and his great uncle was Papa John Joseph who had played bass during the era of Buddy Bolden. A cousin gave Don piano lessons but he had a greater interest in playing bass. He played electric bass with a funk group from the age of 13, taught himself guitar when a member of the band left, and worked in Bourbon Street clubs as a teenager. After a few years he began playing bass with jazz trios including with such notables as Placide Adams, Teddy Riley, Wallace Davenport, Bob French and Danny Barker, and he taught himself banjo. While Don studied music theory and classical bass at Loyola University and Xavier University, his main musical education took place on the bandstand. 
He made his recording debut as a leader in 1986, started his own Vappielle label, began yearly visits to Europe around that time, and in 1990 recorded Crescent City Serenade with clarinetist Dr. Michael White. After meeting and impressing Wynton Marsalis, Don began working regularly with the Jazz At Lincoln Center Orchestra as a guitarist, banjoist and vocalist in 1994, an association that has continued for 25 years. While best known for his work in vintage New Orleans jazz, Don Vappie has a versatile style on his instruments and has performed and recorded along the way with such notables as Peggy Lee, the Preservation Hall Jazz Band, Otis Taylor, Bette Midler, Ruby Braff, Howard Alden, Terence Blanchard, Wycliffe Gordon, Marcus Roberts, Ellis Marsalis, Doc Cheatham, Benny Waters, Bob Wilbur, Dick Hyman, Jon Faddis, Diana Krall, Eric Clapton, Dee Dee Bridgewater, Daryl Sherman and the New Orleans Orchestra among many others. He has 
also led eight albums of his own including with his Creole Jazz Serenaders, a group that emphasizes superior obscurities from the 1920s. 
Don Vappie has also been involved in many special projects. He starred in and co-produced the PBS documentary American Creole: New Orleans Reunion, writing the music for that special and for Zora Neal Hurston – Jump At The Sun, Mandeville: The Good Life, The Homefront, NCIS New Orleans and Treme. Don's transcriptions of many early jazz recordings are available from Warner Bros. Publishing. He has done extensive research on the Creole music of New Orleans and the Caribbean, and as a speaker has lectured about everything from the influences of early jazz to the history of the banjo. In addition, he is a popular and prolific educator. Don is the jazz guitar instructor at Loyola University, an instructor at the Don "Moose" Jamison Heritage School of Music, works with many public schools, teaches privately (guitar, banjo, bass and mandolin), conducts master classes, clinics, workshops and seminars, and has presented many programs on New Orleans music for such organizations as Jazz At Lincoln Center, Carnegie Hall, Tulane University, NPR, and the Smithsonian. In the future, he plans to offer online lessons. 
Don Vappie is constantly creating music and spreading the gospel of New Orleans jazz. "Traditional New Orleans jazz is the foundation for all of the music that is around today. Although I'm best known for playing the older music, I still play modern jazz too. The music all connects together. When I came up, the older guys in New Orleans played everything. They would say that they play music. That is what I do too."
Purchase Tickets