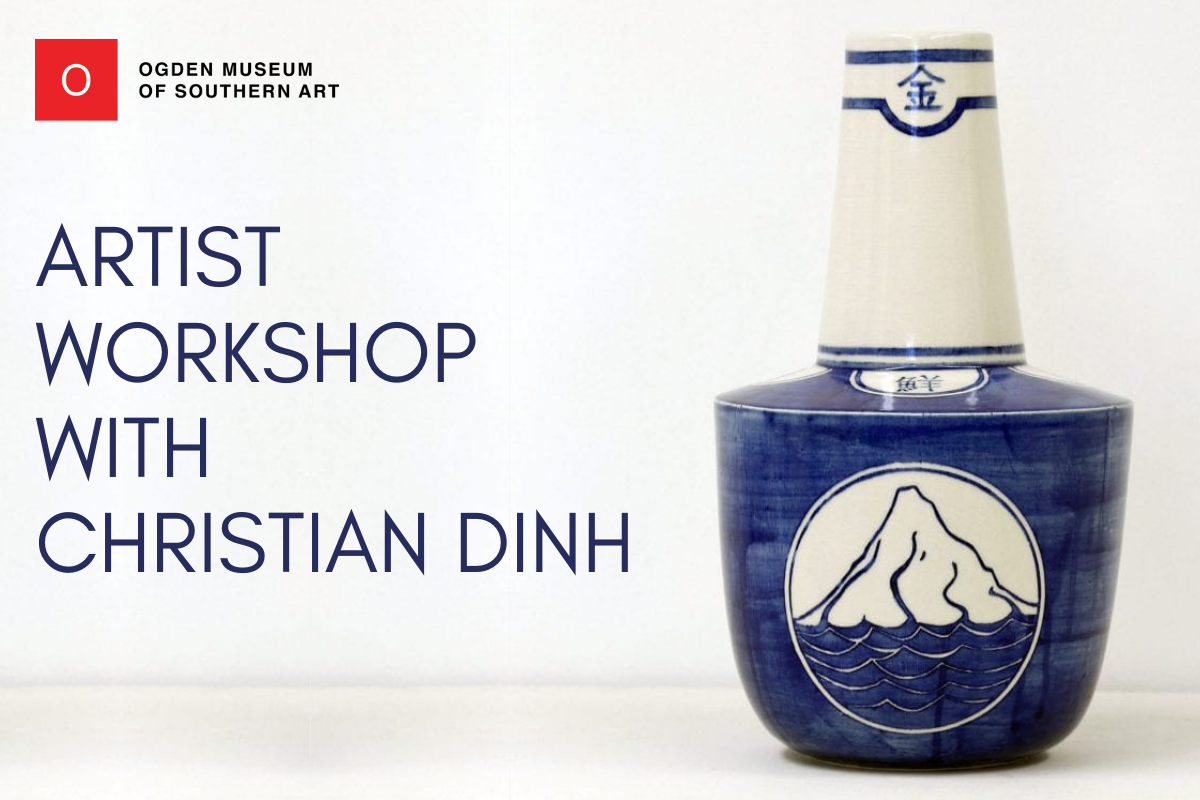 Artist Workshop
with Christian Dinh
/// February 5, 2022 @ 10:00 am - 1:00 pm
THIS WORKSHOP IS NOW SOLD OUT. STAY TUNED FOR OUR NEXT ARTIST WORKSHOP!
In this Artist Workshop, join ceramicist Christian Dinh for an exploration of traditional cobalt painting techniques. In his work, Dinh references imagery that is reminiscent of his childhood, growing up within Vietnamese culture. Participants will develop and paint their own imagery utilizing personal and cultural iconography.
This workshop includes a guided tour of FOCUS Spotlight: Nail Salon: Featuring Porcelain Works by Christian Dinh.
Finished pieces will be fired after the conclusion of the workshop. All materials are included.
$40 member / $45 non-member
IMPORTANT EVENT GUIDELINES
Anyone 5 years of age and older must provide proof of at least two doses of an approved COVID vaccine or a negative PCR test within 72 hours to access. We will accept original vaccine cards, the LA Wallet app or high-resolution photos of both sides of your vaccine card as proof of vaccination. Physical copies or a photo of a negative PCR test will also be accepted. Masks are required.
Artist Statement
My current body of work centers on the experience of a first generation Asian-American. The work focuses on the Vietnamese culture that developed in the United States subsequent to the Vietnam War and the flourishing Vietnamese community established by refugees and immigrants throughout the country. The cultural way of life, traditions and beliefs of Vietnam have been brought over to America in fragments by the Vietnamese immigrants. The resilience of the Vietnamese people allowed them to adapt to their displacement and create a new culture with what was around them. This culture that the Vietnamese people established has shaped my experience as a first generation Asian-American. Through my artwork, I am bringing attention to the experiences, objects, places and values that are part of the identity of the Vietnamese-American people. My artwork redirects stigma and celebrates Vietnamese-American identity by confronting racism, stereotypes and underrepresentation. Vietnamese nail salons are often stigmatized, due to the association with lower-class minority work. However, I believe the Vietnamese nail salon to be one of the great success stories of the Vietnamese-American community. My series, Nail Salon, redirects this stigma and highlights the success of the Vietnamese nail salon industry. The pieces in the Nail Salon series are porcelain cast of display hands typically seen in a nail salon. The display hands signify the idea of a translator. Many workers in the nail industry are immigrants who speak little or no English and rely on visual representation to communicate. The hands in Tết, AROMA, French Tip and Cám ơn represent a tool of communication for those dealing with the everyday struggles of language barriers. The hands and nails have depictions of different ideals of success in Vietnamese-American culture based on my experience, such as Catholicism, Vietnamese New Year (Tết) and the family household. These ideals are what bring the Vietnamese culture together in a country where they are the minority.
Artist Bio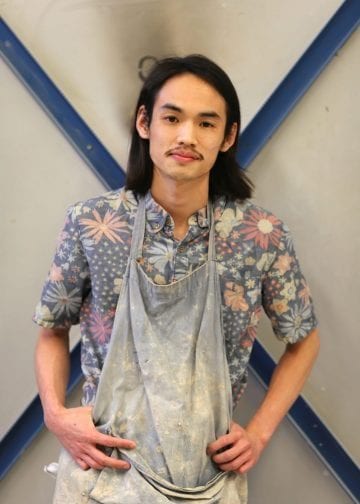 Born in 1992, Christian Dinh is a Vietnamese-American ceramic artist from Orlando, Florida. He received his B.F.A. in 2017 from the University of West Florida in Pensacola. While studying at UWF, Dinh was nominated for the International Sculpture Center's Outstanding Student Achievement in Contemporary Sculpture Award. Relocating to New Orleans in 2018, Dinh is currently attending the M.F.A. program at Tulane University. Dinh's ceramic and sculptural work has been in numerous exhibitions throughout the Gulf Coast, including And Now For Something New Vol. 2 at LeMieux Gallery in New Orleans and PHILIC / PHOBIC at the Pensacola Museum of Art.
Learn more about Nail Salon
Related Events