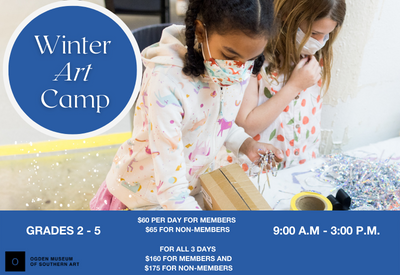 Winter Art Camp 2022
/// December 19, 2022 @ 9:00 am - February 21, 2023 @ 3:00 pm
December 19, 20 & 21
9 a.m. to 3 p.m. Daily 
Winter is a time for reflection and celebrating the wonders we have in our lives. This season, explore the treasures of Ogden Museum of Southern Art and create one-of-a-kind artworks. During Winter Holiday Art Camp, kids will craft unique bead and embroidery creations , explore stenciling and printmaking, enhance their drawing skills with charcoal and pastel, and create collage and mixed media artworks—all inspired by Ogden Museum's current exhibitions. Projects are fun, inventive and different each day. Space limited. Register soon!
This is a full day event, so please bring a snack, water and lunch. 
Sign up for one, two, or all three days. 
For students in 2nd-5th grades.
$160 member and $175 non-member for all three days or
$60 member / $65 non-member per day
Register for Full Camp (3 Days)
Daily Camp Activities 
12/19. Draw! Students will start strong by brushing up on drawing techniques and learning how to use chalk pastels. The organic art work of Gregory Saunders will inspire "blow-up" charcoal landscapes. We'll look at and play with geometric pastel variations inspired by the work of Will Henry Stevens. In addition, each day artists will have time to work on a playful holiday inspired craft project that can be gifted.
Register for Winter Camp Day 1
12/20. Sew! Artists Laurea Welton, Duyen Nguyen and Sadie Shelton use textiles and craft techniques to create delicate, yet strong works of art. This day will be filled with opportunities to draw and create magical compositions that incorporate drawing, collage, embroidery and beadwork. Don't forget, each day also includes a playful holiday inspired craft project!
Register for Winter Camp Day 2
12/21 Print! Using printmaking techniques artists will create multiple images in different formats. We'll explore making our own gift wrap and carving out patterns and designs inspired by works by Jeremiah Johnson and Walter Anderson. Don't forget, each day also includes a playful holiday inspired craft project! 
Register for Winter Camp Day 3